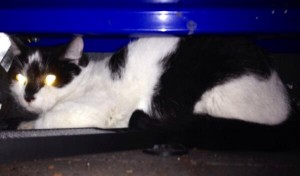 BERKELEY Vale Motors is used to working on purring engines but it's fair to say the business is not accustomed to visitors of the feline variety.
Staff at the firm's Hyundai dealership received quite a shock when they gave an i10 city car a rudimentary health check. A cat jumped out of the engine bay and into the workshop.
'It jumped right over the technician's shoulder,' service advisor Jason Matthews told Car Dealer. 'It gave him quite a fright.'
It's not known how the feline passenger managed to climb aboard the car, but it had been there since the car's owner left home and drove to the dealership – a distance of around 28 miles! It's fair to say it probably survived its ordeal by a whisker.
'All the stray hairs left behind suggest the cat wedged itself up behind the battery,' said Matthews.
As soon as the moggy was disturbed, it ran around the service area, before hiding behind a tyre-fitting machine.
'It was utterly terrified and wouldn't let any of us near it,' Matthews added. 'We had to call the vet, who obviously has a better way with animals. She managed to simply go behind the machine and pick it up.'
Now in the care of the local veterinary practice, the black and white cat was uninjured by its ordeal, and is microchipped, meaning the owner should be relatively easy to trace.
Soon after the incident, Berkeley Vale, based in Thornbury, near Bristol, took to Twitter to spread the news.
@Hyundai_UK_PR Workshop In Chaos after cat jumps from engine bay after travelling 28miles ! He wasn't very happy ! pic.twitter.com/JFnx1ctfSz

— Berkeley Vale Motors (@bvmhyundai) February 20, 2014