Here's your business, motoring and news round-up for Friday, August 14
Britons in France face dash to get home before quarantine imposed
Hundreds of thousands of British tourists in France face a race to get home before quarantine restrictions are imposed.
People arriving in the UK after 4am on Saturday will be required to spend 14 days in self-isolation due to rising numbers of coronavirus cases in France.

The conditions will also apply to travellers returning to the UK from the Netherlands, Monaco, Malta, Turks & Caicos and Aruba.
Juries to hear trials remotely from cinemas
Juries will hear trials remotely in Scotland from cinema complexes under plans to increase the number of cases heard during the coronavirus pandemic.
The Scottish Courts and Tribunals Service (SCTS) said the move follows the success of the 'remote jury' model used by the High Court in Edinburgh.

SCTS said successful tests have been run from a jury centre based in a cinema complex, during one of which a mock trial was conducted with a full jury of 15 people watching the proceedings.
40 per cent of Brits never take a spare car key with them on holiday
A new survey has found that 40 per cent of UK drivers never take a spare car key with them when on a driving holiday.
Despite a lost car key causing significant hassle and delay, thousands venture on a break without bringing a replacement.
The news comes as 19 per cent of the 1,004 drivers surveyed by Toyota admitted that they've misplaced or lost their car keys while on holiday. 
Black remains top car colour but white surges in popularity
Black has taken the top spot as the most popular car colour during 2020, though white has been rapidly increasing in popularity throughout the year.
One in every five cars on the UK's roads is black, making a total number of 6.5m vehicles. The number of white cars registered as of March 2020 increased by 269,314, making for a total of just under five million on the road today.
However, it wasn't enough to claim a place on the podium with white taking fifth. Silver came in second, followed by blue and grey in fourth.
Tui slumps to loss amid pandemic 
Travel giant Tui has revealed the pandemic pushed it to a £995m loss in its third quarter after it halted holidays, but insisted demand was bouncing back.
The group's losses for the three months to June compare with a year earlier when earnings of £92.6m were recorded in the same period. 
It said widespread cost-cutting action helped limit losses as it pushed ahead with a plan announced in May to slash group costs by 30 per cent, costing up to 8,000 jobs worldwide.
Jeep releases adventure-ready Gladiator Farout concept
Jeep has revealed a new concept called the Gladiator Farout. Essentially an adventure-ready version of the firm's pick-up, the Farout follows on from the Wayout concept released in 2019. 
Its main feature is a contained and deployable rooftop tent. Measuring 16 foot long and 7.5 foot wide, the space can be opened and retracted in seconds. Once in place, it offers enough sleeping room for four people.
Inside, it features a fully functioning stove and fridge, as well as hanging storage racks.
FTSE 100 retreats 
The FTSE 100 retreated as concerns over a lack of urgency for US stimulus plans drove caution among traders.
Banking and commodity stocks helped to weigh down the UK index, as multinational companies drifted lower.
London's top flight closed 94.5 points lower at 6,185.62 at the end of trading on Thursday. The German Dax decreased by 0.5 per cent, while the French Cac moved 0.61 per cent lower.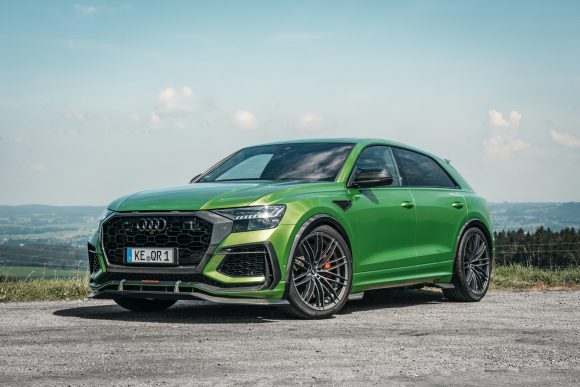 ABT Sportsline reveals limited edition RSQ8-R with 730bhp
The latest limited-edition, modified Audi to come out of ABT Sportsline has been revealed in the form of the RSQ8-R.
The German tuning specialist has worked its magic on the high-performance SUV, which now has an output of 730bhp and 920Nm of torque thanks to a new engine control unit. 
Limited to just 125 examples, the RSQ8-R also gets a stainless steel ABT exhaust system that amplifies the engine noise, exiting through quad 102mm pipes.
Turnover slides at majority of UK businesses
More than half of UK firms have reported a fall in turnover, with more than a tenth saying it has at least halved, according to new figures.
The latest Office for National Statistics survey of the impact of coronavirus revealed that 54 per cent of firms said they saw a decrease in turnover for the two weeks to July 26.
Firms in the North East of England were the worst-affected, with 61 per cent of companies in the region saying that turnover has decreased.
Mostly cloudy and thundery
Today will be mostly cloudy in the south with a risk of further scattered thunderstorms, says the BBC. Central and northern areas of the UK will be largely dry with cloud breaking to give some sunny spells.
Tonight, scattered thunderstorms will continue across some southern parts of England and Wales. Elsewhere, it will be largely dry but with a lot of low cloud and patchy mist.
For tomorrow, southern parts of England and Wales will remain cloudy with heavy, possibly thundery showers. It will be largely dry elsewhere with areas of cloud and some sunny spells.