IT seems like just yesterday that we set off from Dover on this year's Bangers4Ben…
Okay so it was the day before yesterday, but you get my point: the time has flown by as quickly as the French motorway miles.
Today saw us leave Bordeaux and head north to Nantes, some teams choosing a slightly different (read: more fun) route than others.

Following the lead of the MHG and the two Your Best Car teams, we went straight for the coast: first dropping in at Royan for a spot of dejeuner, then heading on to the picturesque island of Île de Ré for no particular reason other than to drive over a large bridge.
Now traditionally on Bangers – aside from half an hour at the docks in Dover – we don't see a lot of seaside, so when we spotted Royan's sandy beaches and an unattended slipway there was only one way things were going to go.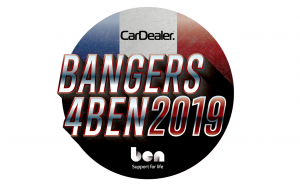 YBC's Garrett took one for the team by sampling the sand first: the four-wheel-drive Mario Kart TT gliding across the surface like it was no big deal.
Unsurprisingly, Team MHG's identical Audi didn't struggle either – Martin even taking the opportunity for a few sand-based power slides.

Our heavy, winter tyre-clad Golf? Not so much: getting itself 3ft from the slipway and immediately becoming stuck.
Having witnessed that incident (and the three others that followed), introducing Wooly and Neil's 1.9-tonne Jag XJ to our seaside photoshoot didn't seem like such a sensible idea, so on the tarmac it stayed.
All three cars extracted from the beach, we pointed the sat navs at Île de Ré and got pedals to the metal.
The tiny island, which feels pristine and perfect enough to shoot a French Truman Show remake, gave the YBC team a handy opportunity to shift an unwelcome furry hanger-on into someone else's car.
The unknowing victims were the Targa Florio team, who'd parked their power steering-less Mitsubishi FTO just down the road. After literally some minutes of effort haphazardly trying to break in – much to the concern of a French Ben Fogle lookalike passing by with a multipack of Andrex – we stuck Garfield on the windscreen and bailed.
Luckily (for them), the boys from Chichester managed to shake Garfield off eventually – finally landing at the feet (or rather, Ford C-Max) of our resident Olympic gold medallist Greg Searle.
The final hotel night also means prize giving, although to be frank with you dear readers, as I write this it's 1am, I've had some wine, and have no hope of remembering who won exactly what. But congrats to everyone who diligently posed for the pictures below.
And with that, our penultimate day of Bangers is at a close – amazingly, without losing any other cars to either mechanical failures or, uh, the sea. Stay tuned to find out if they make the final schlep back to Calais in one piece…
MORE: Bangers4Ben Day 2 blog and pictures