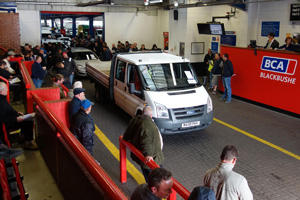 USED values for commercial vehicles have remained strong, according to BCA.
The auction and remarketing firm suggests that values for vans, pickups and so on are staying particularly strong – actually the second highest monthly figure since BCA's records began in 2005.
Figures for January 2013 suggest that the average used commercial vehicle value hit £4,669 in January, a figure beaten only by the prior month. BCA suggests that a shortage of stock is a key factor in the strong values – perhaps even reflecting the fact that businesses are keeping hold of their vans for longer in light of the difficult times.

Duncan Ward, BCA's general manager, suggests the demand could be attributed to people starting up new businesses. 'The rise in average prices at the 'value-for-money' end of the market continues unabated and values for older, higher-mileage vans have stepped up significantly over the past two months,' he said.
'This is likely to be a side-effect of the tough economic climate. With continuing redundancies across a range of business sectors from retail to manufacturing, many people will be tempted strike out on their own and one of the first things they will buy with their redundancy money is a van.'
'With stock remaining thin on the ground, buyer demand is focused on the best quality commercial vehicles and this is driving values up,' he added.