BENTLEY'S oldest retailer Jack Barclay and Savile Row tailor Huntsman have joined forces to create two special edition Bentaygas.
Both exclusive luxury cars were the result of a design collaboration between Huntsman and Bentley's bespoke Mulliner division.
The creative partnership between the two top British brands marks the centenary year of when Bentley Motors was founded and Huntsman established its Savile Row boutique.

The 'Sportsman' and 'Businessman' Bentaygas each use Huntsman fabrics with Bentley's emblematic colour and trim, reflecting the individual lifestyles of the respective collaborators' customers. The designs feature a distinctive interior pattern based on iconic Huntsman tweeds, including the Peck 62, which was created to mark Huntsman's centenary and inspired by an original Gregory Peck coat from the Huntsman archive.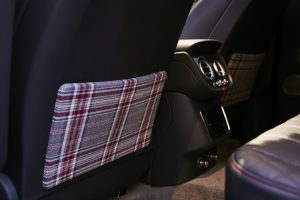 Featuring in a range of exclusive Huntsman house tweeds from 1962, the cloth was commissioned by the legendary film star for a classic Huntsman sports coat.
Stefan Sielaff, director of design at Bentley Motors, said: 'Bentley is delighted to bring together two brands which have such an impeccable heritage in the heart of London – Jack Barclay and Huntsman. The personalisation work we do at Mulliner is about bringing a vision to life – like creating a perfect tailored suit – so adding an element of bespoke Huntsman material to the Bentayga's lavish and beautiful interior is a perfect fit.'
Customers who buy a Huntsman edition Bentayga will each receive a Huntsman bespoke jacket featuring a lining made exclusively for Bentley Motors.
Huntsman owner Pierre Lagrange said: 'We are delighted to work with Jack Barclay, celebrating Bentley's centenary and Huntsman's 100 years on Savile Row. Bentley espouses the timeless British values of authenticity, bespoke craftsmanship and attention to detail, all of which Huntsman embrace in each tailored suit we create for our clients.'

Huntsman and Jack Barclay share common links, with a history based in London's stylish Mayfair district. Jack Barclay Bentley was established there in 1927 and is now part of the H.R. Owen Group.
MORE: New boardroom table to create history of its own at Jack Barclay Bentley
MORE: Bentley appoints Florian Spinoly as product and marketing director