KIA Motors (UK) Ltd was named Manufacturer of the Year at Car Dealer Power 2018.
This is the third consecutive year and fourth time overall Kia has picked up the prize with dealers across the UK voting for the award.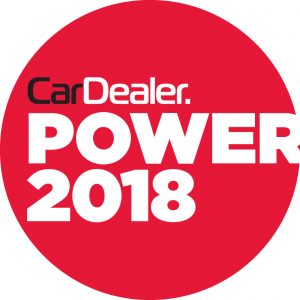 Collecting the trophy, Paul Philpott, president and chief executive of Kia Motors (UK) Limited, commented: 'We are thrilled to win this award as it is voted for by dealers.

'To win for the third year in a row shows our dealers are confident and happy to be part of our brand. The strong partnerships we have built with our dealers are hugely important to our continued growth.'
James Baggott, founder of Car Dealer Magazine and CEO of its parent company, Baize Group, said: 'This is an astonishing achievement by Kia.
'To win this award for a third consecutive time shows that the manufacturer is 100 per cent committed to maintaining great relationships with its dealers.
'Quality cars and an industry-leading warranty are helping Kia enjoy continued success despite the uncertain times in which we find ourselves.'

With 192 dealers across the UK, Kia is expecting to set yet another sales record for the first half of 2018.
Paul Philpott is pictured collecting Kia's trophy from Rebecca Chaplin, editor of Car Dealer and head of editorial at Blackball Media.
Check out the other winners of Car Dealer Power Awards at last night's ceremony here.
MORE: A social media sensation! Here are the top tweets from Car Dealer Power
MORE: All the Car Dealer Power photos are now available to download
MORE: James Baggott: Who will want to buy a car when subscribing opens so many doors?
On WorkshopMagazine.co.uk: Melksham Motor Spares celebrates 50th anniversary in style