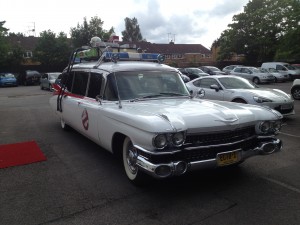 CLASSIC car dealer Milton Homan is putting his beloved Cadillac based on the Ghostbusters Ecto-1 up for auction.
But this is one case of a dealer desperate NOT to make a sale.
The owner of Dream Cars in Redhill, Surrey, has owned the car for five years since he came across it in the Netherlands and had to have it.

It was originally used as an ambulance but as Homan specialises in classic American cars and transforming them for the big screen he created it in the image of the Ecto-1.
'If I had a pound for every photo that has been taken with it, I wouldn't have to be selling it now,' Homan told Get Surrey.
'I could probably have retired, it is that photogenic and crosses every single demographic you can imagine from three-year-olds to 83-year-olds.'
The classic American cars specialist has now listed the car for £175,000 on eBay, but potential buyers shouldn't be put off by the price because it also includes a 10 metre tall Stay Puft Marshmallow Man inflatable.

'If it does go, I will really, really miss it,' he went on to explain to Get Surrey.
'It is nice to drive. I know it inside and out. It is a real pleasure.
'It has got to be the right offer [for me] to part ways with it.
'It will be sad to let it go because I do enjoy driving it and enjoy having it. It would be with a heavy heart.'