FOUR of the top five fastest-selling used cars in August were crossovers or SUVs, according to data from Auto Trader.
Only the electric Renault Zoe managed to penetrate the national crossover stranglehold, ranking second overall, taking an aggregate 19 days to sell at an average price of £6,471.
At the top of the charts was Mitsubishi's Outlander, taking 17 days to sell at an average retail price of £14,327, while the Skoda Yeti ranked third.

The Yeti, Ford Kuga and the Citroen C4 Cactus – third, fourth and fifth respectively – rounded out the top five, all selling in an average of 19 days.
Regionally, the quickest average sale time was 11 days, achieved in both London and the North West. In the former, it was Vauxhall's Mokka sprinting off forecourts, while the Citroen C4 Grand Picasso is the North West's quick seller.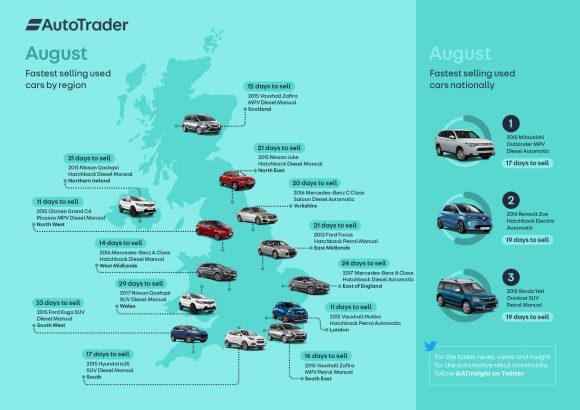 Karolina Edwards-Smajda, Auto Trader's Director of Commercial Products, said: 'To once again be amongst the top three fastest selling used cars in the UK is a huge achievement for the Renault Zoe, and an important bellwether of the improving consumer attitude towards alternatively fuelled vehicles.
'This is evident elsewhere on our marketplace; last month AFVs represented five per cent of all fuel related searches, which was a record high.'

'The key to success in what is an increasingly challenging market, is the ability to respond to consumer demand, whether that be a trend towards alternatively fuelled vehicles or seasonal demand for SUVs or MPVs.
'Complementing your own experience with real-time data can ensure your forecourt reflects these trends in consumer demand and can also help you price stock according to the live retail market, helping you sell more cars, more quickly, and for more profit.'
MORE: Regulators accuse Tesla boss of fraud over plans to take company private
MORE: Endeavour Automotive expands Geely portfolio with Lotus Cars showroom
MORE: UK car manufacturing falls in August as production changes affect summer output