It's the ultimate skunkworks project – a jet-powered hypercar to rival the Veyron but with the emissions of a Prius. Sadly Jaguar's C-X75 backroom project was killed off before it even made it into dealers'. James Baggott has exclusive access to the team behind the project.
Car manufacturers love to set ambitious targets – and as dealers you'll know just what I'm talking about – but when the team behind the incredible C-X75 received the diktat from on high with stipulations for the most ambitious car Jaguar had ever embarked on producing, I'm sure there were a few open mouths of disbelief.
Not only did the Jaguar board want the production version of the supercar to look exactly like the outrageous concept shown at the Paris motor show in 2010, but they had some pretty high targets too: They wanted it to have the performance of a Bugatti Veyron, but with the CO2 emissions of a Prius – and an electric range to match a Chevrolet Volt. This was building-a- Tesco-on-the-moon levels of ambition.

'Our first thought was, "are they serious?"' explained Felipe Austin Bodely, the Brazilian tasked with making the Jaguar concept a reality. 'When I realised they were, we just set about getting the job done.'
Bodely makes 'getting the job done' sound as if he was asked to put up some tricky shelving, not make a car to rival some of the most desirable and fastest ever to hit the world's roads. This was, without doubt, a monumental engineering task.
A team of 80 engineers, made up of the best of the best from project partners Williams (the F1 team) and Jaguar, were brought together in 2011 at JLR's headquarters and they began to fathom the sheer complexities of making this dream hypercar a reality.
'The board wanted it done fast and when speed is of the essence you need to lock engineers in a room and tell them not to come out until they're finished – and that's exactly what we did,' explained Bodely.

'F1 teams have to develop things in a very fast cycle. We got wind of rival hypercars from Ferrari (La Ferrari) and McLaren (P1) and knew of Porsche's 918 and we wanted to launch our car around the same time.'
But there were a few issues to overcome before then – not least the small matter of the show car's jet engines. The Paris 2010 concept had two turbines installed as power plants and the manufacturer's top team were keen to push ahead with putting them into production.
'I remember the company that makes them, Bladon Jets, came in to see us with them in a small suitcase,' said C-X75 designer Matt Bevan. 'Jet engines are a fantastic technology – they're very powerful for such small units and would have made the car extremely futuristic. We wanted to cast convention aside and think what cars of the future would look like. Unfortunately for production, they just weren't ready so they were swapped for a hybrid set up.'
While jet-powered cars are the stuff of little (and big) boys' dreams they may still make an appearance in the future. Bladon Jets is now part-owned by Tata, the same parent company as Jaguar Land Rover.
With the turbines ruled out, the engineering team decided upon a powerful hybrid set-up instead – and what they came up with was truly incredible. Williams developed its very own batteries for the car and these were coupled with two electric motors, one in the back and one in the front, producing 200bhp each.
Further JLR magic dust was sprinkled on the internal combustion engine. Just 1.6-litres in size it produces a staggering 502bhp – that's some 313bhp per litre – boosted by a turbo and supercharger. When all three units were combined, the output was a kidney-shifting 900bhp.
'We spent a long time on the car and we did everything they asked for – we'd hit all their targets'
The C-X75 emits just 89g/km and is capable of running on electric power alone for around 60 miles – even then it has nearly 400bhp on tap. A fast charging system tops the cells up in just 40 minutes. However, it's when both electric and combustion power are combined that the Jaguar really comes alive.
'The performance figures surprised even us,' explained Bodely. 'It can hit 60mph in under three seconds and, in EV mode, achieves the same speed in less than six. 0-100mph is cracked in six seconds and we topped out at around 222mph. It is incredibly powerful.'
By August 2011 the engineers had cracked the hybrid set-up and, despite the battery packs that were built into the floor to aid handling weighing 250kg, they had still managed to make it weigh less than an F-Type.
In August 2012 the first prototype rolled out of the R&D department and the project was moving ahead at speed. Three more prototypes followed, the last (seen here in blue) was car number five and the exterior was pretty much production ready while the interior was very close to a finished design, too.
'We had to make some changes from the concept car because cooling was a major problem,' explained Bodely. 'The exhaust generated 850 degrees C so a large amount of work went into the air ducts. We had to engineer a "cool box" in the rear to keep the important components below 90 degrees C at all times. These were big challenges as we didn't want to alter the shape.'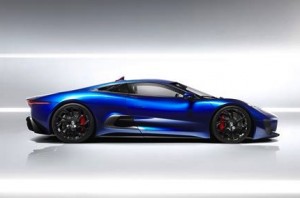 With these challenges overcome and testing revealing some exciting esults, it reached a point in the C-X75's development when some major decisions needed to be made. Despite many millions already spent on development, and a very polished product to show for it, major investment was still required to finish the job.
'Car number five was good but to take it into production it needed another 50 per cent again in development,' explained Bodely. With his work done, all he and his team could do was wait for a decision from the board on the next steps.
In December 2012 the project was canned. Economic uncertainties and a need to divert funds into other new models were blamed, but that didn't quell the heartache.
So what was it like having to return to a room full of determined engineers – many of whom had spent the best part of two years on the C-X75 – to tell them that their dream was over?
'We spent a long time on the car and we did everything they asked for – we'd hit all their targets,' explained Bodely, the pain still clear behind his professional façade. 'The supercar market at the time was uncertain.
The economy was very fragile and the timing just wasn't right. Jaguar had other exciting projects it needed a little more than a supercar, so I understood the decision. It still hurt, though.'
Jaguar's global brand director Adrian Hallmark told Car Dealer: 'It was like killing the family puppy. No one wanted to do it, but someone had to. Sometimes you have to be brave.
'We set out to achieve certain things with the C-X75 and we did it. But it cost a lot more than we planned and in the meantime the whole supercar market that was supposed to take off after the 2008 doom and gloom, went into a double dip. We know for a fact, because we took people from those companies, that the competition were struggling with their supercars too.'
Of course Jaguar has form here. The XJ220 was the ultimate skunkworks project, conceived by a team of engineers in their spare time in the '90s, again during similarly troublesome economic times.
Originally that car had a V12 engine, but when the production versions hit the market it had been replaced by a turbocharged V6.
Still, at least the XJ220 did eventually make it into showrooms. 'We learned lessons from the XJ220,' added Hallmark.
'That helped us make the decision. We thought at the time let's not, because of pride or passion for the family puppy, keep on going when we don't think it's the right thing to do.
'It was bloody tough – it really was – but we had to do the right thing.'
Even now, Hallmark and his team are often approached by customers who want to buy a C-X75. For those petrol heads for whom money isn't a consideration, one of these ultra-exclusive Jaguars would be the pièce de résistance of their collections.'We displayed it at Buckingham Palace at the Coronation Festival in the summer and I had one guy who wouldn't take no for an answer,' said Bodely.
'He went on and on and it's when you meet people like that that you start to think again.' And he isn't alone. Even Hallmark has had similar experiences: 'I was on the stand at this year's Frankfurt Motor Show and I had people offer to buy one – it wasn't even on display,' he said. 'One was a man who put a deposit on a C-X75 before we canned it and he kept asking if he could buy one of the prototypes, but we can't allow that.
'Money is not the object – what is, is the high voltage running through the car. If a certain light comes on on the dashboard you're told don't put your feet on the floor and touch the car at the same time because something has gone wrong.
'And those volts would smart a bit! The car needs more development before we could sell it.'
But something tells us that all is not lost – there's a definite glint in Bodely's eye when I ask him if the project is dead and buried.
'Oh, it's not dead,' he says. 'It's suspended… You never know what's going to happen. Even though the project was stopped we continued to work on the cars until May this year.
'The project was certainly not a waste of money. We developed some clever new technology that will cascade into other projects and we learnt the benefits of extreme downsizing of engines. We've broken barriers with the C-X75 and that's very valuable indeed.'
Whether the C-X75 will see the inside of a Jaguar showroom remains to be seen, but one thing is for sure – the team behind the project, and the top brass at the manufacturer, would still very much like to see it happen.
We'll let Hallmark have the final say: 'I hope we can do it again.
'We still have three running regularly. The cars exist, as you've seen, and they are unbelievable.
'When you drive them it is truly amazing technology – and I think that really would be a shame to waste.' Hear, hear.
First drive: Hitting 205mph in the C-X75