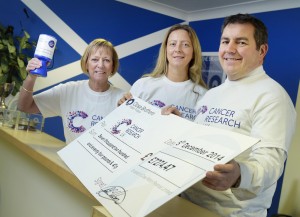 ONE of the UK's leading motor finance providers has raised more than £7,000 for Cancer Research UK with a sponsored 250-mile static cycle challenge.
Together, 16 employees of Close Brothers Motor Finance covered the equivalent distance between the company's Livingston base and its Doncaster headquarters, with each member of the team pedalling more than 30 miles.
The static cycle, alongside a host of other fundraising activities, has helped the Close Brothers Motor Finance team in Livingston raise thousands for the charity, and make a significant contribution to the company's national fundraising total, which currently stands at more than £20,000.

Scott Anderson, the charity champion for the Livingston branch, said: 'We're proud to have raised such a fantastic amount for this great cause.
'The cycle was a challenge but it was a lot of fun and we would like to thank everyone who sponsored us and helped us to reach our total, especially our dealer partners who made so many generous donations.
'We wanted to support Cancer Research UK and the work they do as much as possible, so we've also spent a Saturday packing bags in supermarkets, collected donations in our office and even taken part in a fun run.'
Maria Haslam, partnerships manager at Cancer Research UK said: 'We are extremely grateful for all the time and effort invested by Close Brothers Motor Finance. Their team has come together to contribute such a substantial total and we are delighted.

'A special mention must go to the Livingston branch who alone have donated over £7,000. All of the funds they have raised will go towards the charity's research to beat over 200 types of cancer, helping to bring forward the day when all cancers are cured.
"Cancer Research UK receives no government funding for its ground-breaking research, so having supporters like Close Brothers Motor Finance and their customers is crucial to the work of doctors, nurses and scientists who work day and night to fight cancer on all fronts.'
MORE: Swansway's 12 Days of Christmas video