THE annual Car Dealer Magazine Used Car Awards, the unmissable occasion that celebrates the best of the best in the used car industry, are just days away.
And if you haven't got your ticket yet, what are you waiting for? We have a few last-minute tickets still available – with the potential to include overnight accommodation after the ceremony as part of the package.
Held every year at the spectacular Brewery venue near The Barbican in London, the Used Car Awards is a glamorous event that recognises the leaders in the sector in a number of different categories, from customer care to social media, and rewards dealerships of all shapes and sizes.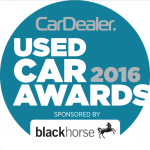 Following the nominations process, which allows entrants to self-nominate, the number-crunchers here on the Car Dealer team get to work. Entries are vetted and sorted to generate a long-list before the mystery shopping starts.
When all the scores are in, the panel of judges, chaired by Mr. Wheeler Dealer himself Mike Brewer, pore through the results to whittle the list down to a final-five shortlist in each category – and you'll really need to know your business, product and market inside-out to get this far.
The winner and two runners-up in each category will be revealed at this year's event, which takes place on Monday, November 28.
Whether you win or not, you'll be able to enjoy a great evening with a meal, drinks, music and dancing, all in the fabulous Grade II listed 18th Century surroundings of the impressive venue of The Brewery.

A Used Car Award trophy in your office is a great way to get customers talking and the event itself is very much the start of the festive season, so it's an occasion no-one should miss.
To obtain one of the last few tickets still available, call 023 9252 2434.
MORE: Who are the finalists in this year's Used Car Awards?
MORE: Place your bets, please, at the AA Cars Casino
MORE: iVendi to host exclusive after-party at the Used Car Awards
On SuperUnleaded.com: Lewis Hamilton Faces A Tough Interview – By A Young Girl