THE FORD Ka was the UK's fastest-selling used car in February but SUVs got a boost thanks to the wintry weather, according to Auto Trader.
Examples of the small hatchback from 2016 with petrol engines and manual gearboxes took an average of just 17 days to leave dealer forecourts last month, placing it at the top of the ranking.
However, second, third and fourth place were all taken by SUVs in response to the seasonal bad weather, said the digital automotive marketplace. The 2011 diesel automatic Audi Q5 and 2015 diesel manual Vauxhall Antara both took an average of 19 days to sell, while the 2011 diesel manual Audi Q5 took 20.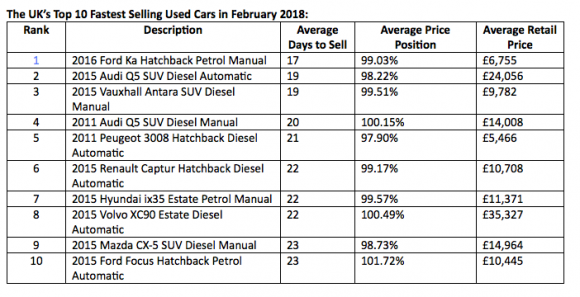 Despite recent trends, diesel models performed strongly last month, making up seven entries in the national top 10, with the 2011 diesel automatic Peugeot 3008 in fifth at 21 days, the 2015 diesel automatic Renault Captur in sixth at 22 days, the 2015 diesel automatic Volvo XC90 in eighth, also at 22 days, and the 2015 diesel manual Mazda CX-5 SUV in ninth at 23 days.
In addition, three of the 13 regions had diesels at the top of their rankings – the 2016 diesel manual Hyundai Tucson in the north-west at 19 days, the 2017 diesel manual Nissan Qashqai in Wales at 24 days, and the 2017 diesel manual Volkswagen Golf in Northern Ireland at 37 days.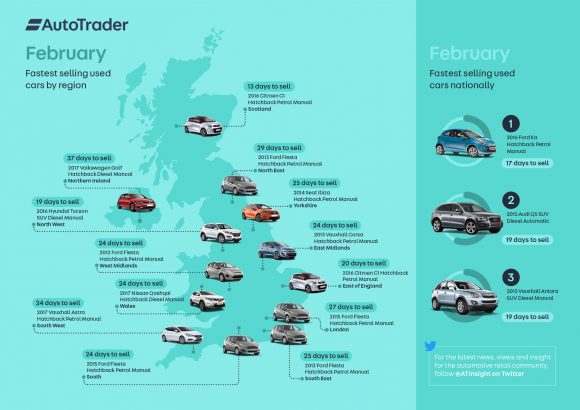 Karolina Edwards-Smajda, retailer and consumer products director at Auto Trader, said: 'The year ahead holds some exciting opportunities for retailers, and finance will play an increasingly important role in driving growth, particularly within the used car market.
'As we can see from our data, the most popular second-hand cars are three to four years old. Because of finance, these younger, more desirable, but more expensive cars are becoming more accessible to consumers who increasingly view cost as a monthly payment, not as a total price.

'Making finance easier to understand and easier to navigate will really help retailers stand out in today's competitive market.'
MORE: 'Brexiety' has caused new car sales dip, says Auto Trader
MORE: Ford Ka was UK's fastest-selling used car in October, says Auto Trader
MORE: Auto Trader takes step towards offering consumers complete online finance
On WorkshopMagazine.co.uk: Franchised dealerships see 24 per cent drop in workshop activity during Q4 2017