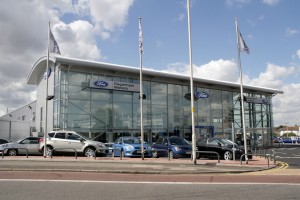 FORD will begin rolling out its new look and feel for its retail areas across its dealerships this year, after showcasing the look at Essex Autogroup's Basildon dealership.
The new design features brightly coloured stands and displays guiding customers through the dealership.
Clair Hepworth, Ford Service Marketing Manager said the UK was the first market to receive the new pan-European look.

'The new retail look and feel is part of a strategy change at Ford, which demonstrates that we go further for customers' she said. 'We are demonstrating, in dealerships, Ford's slogan of Go Further.'
The new look is scalable for small medium and large dealerships, and includes a bright orange 'Hello' welcome desk, relaxation areas with iPads and sofas, a large display for brochures, colours and materials, a section called 'Test Drive' where models are displayed and finally and 'Thank you' area outside, where handovers take place.
'The new look eases the confusion for customers who often walk into a dealership full of desks and are not sure where to head first.'
Phillip Maskell, managing director of the Essex Autogroup which runs the Basildon Ford dealership where the new look was launched, said the new style was a subtext of Ford's new global strategy.

'Ford has moved from being a multi-brand company worldwide, with brands such as Land Rover and Jaguar, to focusing on just one Brand, the Blue Oval. The company slogan is 'Go Further', and the new style showcases this to customers within every dealership.'
The Basildon dealership, which was a brand new build in 2007 and built on 5.5 acres of land acquired from Ford, sits at the head of Ford's Technical Research Centre, its largest in Britain. The dealership has 26 service bays and space for 110 used cars around a dedicated Ford Approved Used Cars pavilion.