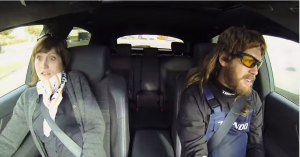 FOUR-TIMES Formula One World Champion Sebastian Vettel has been livening up an Infiniti dealership in Germany by pretending to be one of its mechanics.
A disguised Vettel takes unsuspecting customers for a test drive, before scaring them by throwing the Q50 around the industrial site.
We're surprised his passengers couldn't spot this very famous German racing driver through his mullet, beard and pot belly but they seem completely fooled!

Watch the video below to see for yourself.
Want to see how Car Dealer boss and Seb enthusiast James Baggott got on when the racing driver took him out in a Q50? Click here.
MORE: Infiniti: Challenger brand has aspirations for volume, but only wants a network of 25 or so dealers
MORE: VIDEO: Tenth Infiniti Centre will have 'a pivotal role' to play in brand's future

MORE: Vertu's new showroom boosts Infiniti's network to 10