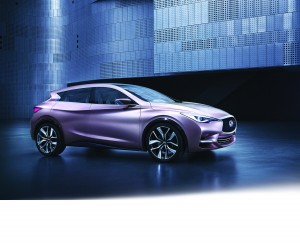 NISSAN'S premium brand Infiniti is about to take off, says the company's vice-president for Europe, the Middle East and Asia, Francois Goupil de Bouille.
'What we want to tell the investors is a very simple message. Nissan has decided to make Infiniti a global premium brand and we will do it. There is a huge potential. And if you want to be part of this journey, it's time to join us in the boat.
'In the UK we are really now close to taking off. We are very encouraged by the figures from July, August, September. Definitely we are growing.

However, the tactics that Infiniti is using to ensure this growth are very different to most mainstream manufacturers: 'We will look to more dealers, but we are not going to copy what the Germans or Volvo do.
'We want to have much more limited numbers of dealers, very well located in the right place.
'In the UK, Infiniti sees 25 as the right number of dealers. That's where we'd like to stop,' commented Terry Steeden, the company's PR communication manager. 'We don't want hundreds on each street corner.'
Steeden told us: 'We've got volume aspirations, but we're not trying to replicate Audi or BMW. They can do their mass market, we need to be exclusive and get to a level where we are comfortable to retain that exclusivity.'

MORE: New London design studio will help Infiniti challenge premium brands
MORE: Vertu's new showroom boosts Infiniti's network to 10
MORE: VIDEO: Tenth Infiniti Centre will have 'a pivotal role' to play in brand's future