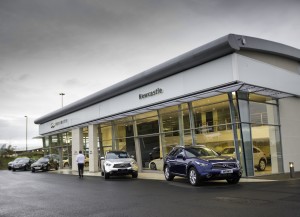 THE UK's tenth Infiniti Centre has been officially opened in Newcastle upon Tyne.
Located on the city's Silverlink Business Park, the new facility further strengthens Infiniti's nationwide presence and gives the brand an important foothold just a few miles from the Sunderland factory where the first British-built Infiniti – the Q30 – will enter production next year.
Its opening also marks the beginning of a new relationship between Infiniti and Gateshead-based Vertu Motors PLC – one of the country's largest and most successful automotive retail groups – which will operate the new outlet.

Steve Oliver, Infiniti's director for northern Europe, said: 'The North East has a pivotal role to play in Infiniti's future in the UK and Europe. The launch next year of the new Q30 will be a landmark moment in the brand's history and so to be opening this fantastic new Infiniti Centre just a few miles down the road from the factory where the car will be built is terrific.'
Robert Forrester, CEO of Vertu Motors, said: 'As a company based in the North East we are incredibly proud to be opening the region's first Infiniti Centre. The new Q30 will go into production in Sunderland next year and it's fantastic that we'll soon be able to sell North East-made premium cars in this fantastic new facility.'
The launch event was attended by scores of invited VIPs and showcased the exclusive models that make up the Infiniti range – including the new Q50 sports saloon and QX70 SUV.
Guests were also among the very first in the country to see the new Infiniti Support Our Paras Q50 racing car which will compete in the coming British Touring Car Championship season, driven and maintained by injured service personnel. The Infiniti Red Bull Racing Formula One car driven by Sebastian Vettel was also on display.

MORE: Two millionth Qashqai rolls off the production line at Sunderland
MORE: New look for showrooms going down well with Mazda dealers
MORE: Renault Retail Group announces new MD of its European operations