YOU can't beat the feeling of winning a trophy at the fabulous Car Dealer Magazine Used Car Awards.
And don't just take our word for it! We recently caught up with the team at Roadside (Garages) Ltd in Coleraine, Northern Ireland, who picked up one of the main gongs at last year's glittering ceremony in London.
The dealership, which also holds a Kia franchise as well as dealing in 'pre-loved' vehicles, was voted Used Car Dealership of the Year (over 100 cars). It's fair to say they were delighted by their triumph – and have already been nominated for another award this year.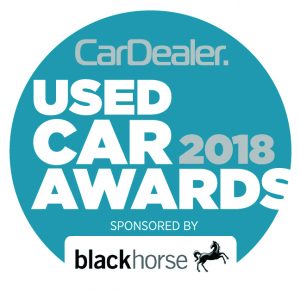 Managing director David Boyd told us this week: 'Winning a Used Car Award had a positive impact on us, without a doubt. It created a real feelgood factor and we have been using the winner's logo on quite a bit of our advertising as well as social media – we're quite big on Facebook.
'We do get customers actually mentioning it and the whole thing has been very positive for us.'
The team at Roadside were so delighted by their success, they even had a big banner made which adorns their perimeter fence and which mentions their success.
Boyd said it definitely gave the whole team at Roadside (Garages) a huge morale boost and added: 'If we didn't think it was worth winning, we wouldn't enter again! It definitely had a very positive impact all round for us.

Asked if he enjoyed the 2017 awards ceremony at The Brewery, Boyd said: 'Absolutely. The Brewery is a first-class venue and the whole evening was very enjoyable.'
It's not too late for YOU to get involved in the 2018 Used Car Awards – but time is running out! The deadline for entries and nominations this year is October 5.
The awards ceremony itself takes place at The Brewery, London on Monday, November 26th. For tickets or to sponsor an award, call (023) 9252 2434. We'll see you there!
Our picture shows the team from Roadside (Garages) collecting their award at the Used Car Awards last year.
MORE: Enter your own business or nominate someone else for a Used Car Award
MORE: Top tweets from a memorable 2017 awards ceremony