H.R. Owen has introduced new approach to classic, performance and luxury car buying: the H.R. Owen Ecurie.
Ecurie, which is the French for 'stable,' is a word with a long association with motor racing and racing teams. H.R. Owen's Ecurie will showcase exceptional, sought-after high-performance cars and bring them together under one roof.
The newest H.R. Owen location is Cheltenham, and will allow buyers access to a wide selection of desirable cars.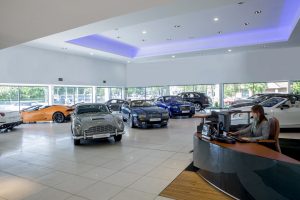 As well as hosting a carefully-chosen selection of high-performance and luxury vehicles, the company will also be able to source and acquire cars of the highest standard on behalf of customers.
The H.R. Owen Ecurie is the first specialist pre-owned multi-franchised dealership in the company's history, and is not tied to any one manufacturer. This gives customers the choice of the cars from manufacturers such as McLaren, Porsche, Morgan and Caterham, as well as the franchised brands within the H.R. Owen portfolio, such as Aston Martin, Bentley, Ferrari, Lamborghini and Rolls-Royce.
Craig Davison, H.R. Owen Ecurie brand director, said: 'The launch of the HR Owen Ecurie represents a ground-breaking new direction for us, and opens up a world of new possibilities for car buyers.
'We are excited that the global reputation of the H.R. Owen brand will help us to give customers access to a wide range of performance or luxury vehicles of many types and ages.

'The Cheltenham location allows us access to a beautiful selection of local roads that will allow buyers to sample the cars in the perfect environment.'
MORE: Martins Group redevelops its Camberley VW dealership
MORE: Nissan GB adopts CitNOW across entire dealer network
MORE: Volvo launches 'Sponsored Dealer' programme
On SuperUnleaded.com: Woman Uses Sex Toy To Remove Dents