Can the new Prius right the wrongs of the frumpy old car? Jon Reay headed to Spain to find out.
What is it?
If ever there was a car trying desperately to make some new friends it's this one. The Prius has always found favour with owners for its exceedingly low running costs but it's never been a car to stir your soul. With this fourth-generation one, though, Toyota is hoping that a new platform and some sportier design will lure in new customers.
What's under the bonnet?
As before, you're looking at a 1.8-litre petrol engine hooked up to an electric motor and a CVT gearbox. It's not just lifted out of the old model and into the new one, though: the petrol engine, battery and electric motor have all been redesigned or heavily tweaked to make this the most efficient Prius yet – and that is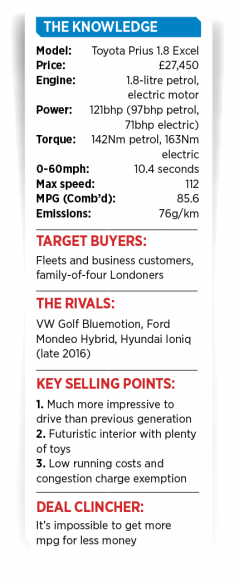 sort of the point, after all. Spec the smaller 15-inch alloys and the Prius can hit a faintly ridiculous 94.1mpg on the combined cycle and 70g/km CO2, meaning no vehicle tax and, perhaps more crucially, no congestion charge in London.

What's the spec like?
Starting at £23,295, the Prius isn't particularly cheap, but you do get plenty thrown in – adaptive cruise control, LED headlights, keyless entry, dual-zone climate control, a reversing camera and a touchscreen stereo with DAB are all standard. Hand over more cash and, depending on the trim level, you'll find sat nav, an upgraded JBL speaker system, intelligent park assist and even a wireless phone charger. The big improvement is on interior quality. It all looks and feels pretty smart and is lifted pleasantly by white gloss bits – miles better than the sea of grey plastic in the old car.
What's it like to drive?
Spoiler alert: it's still definitely a Prius. The Atkinson cycle petrol engine hasn't improved much in terms of soundtrack and the CVT gearbox means it still drones away in front of you under hard acceleration.
Aside from that, the Prius is actually pretty good to drive. The new platform is a bit of a revelation – a much lower centre of gravity and more natural driving position mean this Prius feels far less MPV-like.
What do the press think?
Autocar said: 'This is a Prius better in every way than its predecessors … and borders on being fun to drive.'
What do we think?
Ultimately, the Prius still isn't a car set up for sheer driver enjoyment – quelle surprise – but this new-generation car isn't half bad. We like the way it looks, both inside and out, and it's arguably a more interesting ownership proposition than the average diesel hatchback, and a vast improvement on the old car. If you're after an easy-to-drive medium-sized car that sips fuel, the Prius is hard to beat.

MORE: Handbook: Suzuki Vitara S
MORE: Handbook: DS 3 Puretech
MORE: Handbook: Kia Sportage
On SuperUnleaded.com: Utter Madness Unfolds As A Biker And A Motorist Come To Blows