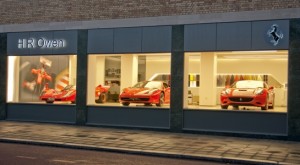 LUXURY car dealer HR Owen is to launch a new Training Academy, in order to find the next generation of sales executives.
Developed through the Academy, these sales executives will join a team at one of HR Owen's dealerships across the UK, dealing in luxury car brands such as Bentley, Bugatti, Rolls Royce and Lamborghini.
The company has more than 80 years of experience in the business and last year HR Owen won Dealership Group of the Year award at the Car Dealer Used Car Awards.

Now in 2014, HR Owen is looking for new talented sales specialists to continue its tradition of providing customers with a premium service and will offer positions in central London, St Albans, Surrey, Berkshire, Cheltenham and Manchester.
In a press release, HR Owen said: 'The application process will be intense and we expect competition to be fierce for these converted positions.
'What HR Owen can promise is that, if successful, candidates will receive a comprehensive training and development programme that will equip them to become one of our sales stars of the future. They will join a roster of staff, which includes Anita Krizsan, the number one Bugatti sales person in the world in 2012 to 2013. This is an amazing opportunity to work at the world's leading luxury car dealer.'