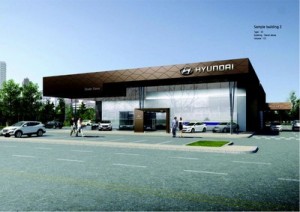 KOREAN car brand Hyundai is ditching its blue corporate look and turning its dealerships to bronze.
Currently, the corporate colour for Hyundai's dealer network is blue, but from this year the exterior of the showrooms will adopt the new Bronze Age.
Tony Whitehorn, president of Hyundai UK, said: 'When you go down a road full of car dealerships they are all blues, reds and silvers – we want to stand out from the crowd and this new colour will do it for us. It looks really classy.'

It's all part of the plan to raise the brand image and increase UK sales from 77,000 last year to 100,000 by the end of the decade. 'In the past five years we have gone from 30,000 vehicles a year and number 23 in the market to more than 75,000 and into the top 10 manufacturers,' Whitehorn said.
'We have done that on the back of new products, but the jump from 75,000 to 100,000 is going to be a lot more difficult. Products are still important of course. We already have 8,000 orders for the new generation i10 which we only introduced at the end of January. In all we will have 22 new or revised products coming through by 2017.
'To maintain the momentum we also have to be a lot smarter in how we sell cars and in getting the brand awareness out there. We have to look at how we engage with customers and that means having a 24-hour a day online presence.
'In a few years time people will not be going into dealers like they are today. Once the dealer was at the start of the buying decision, now it is at the end – all the research is being done online and 75 per cent of customers are looking for peer to peer reviews which is why we use Revoo. If you are not online you are lost.'

The Bronge Age
Whitehorn said that the cost of changing the exterior colour at dealerships will by underwritten by Hyundai UK. He added: 'We are not expecting dealers to make massive investments in terms of interiors, but it is around five years since our last corporate change so they will be looking to update anyway.'
First to take on the new bronze colour will be new dealers signing up to the Hyundai brand this year while the full 160-strong network will convert over the next four years.
Whitehorn said: 'The new look is only part of the story in terms of raising the brand image, we have our huge advertisement in Piccadilly Circus, our sponsorship of the football World Cup while our return to the World Rally Championship will inject excitement into the brand.'
He added that Hyundai plans to increase UK sales to 80,500 this year fed by a growth in personal contract purchases (PCPs). 'We will be banging home the message that for what it costs per month for your mobile phone, you can actually have a new car.'
Source: Headlineauto