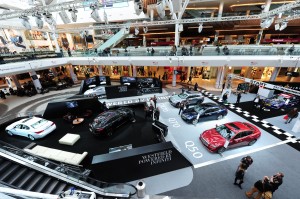 INFINITI has announced it will open permanent two-car showrooms at both Westfield London centres this spring.
The aim is to spread brand awareness further and expand its cut of the premium car market.
The Japanese carmaker has already set up pop-up showrooms in Westfield Shepherds Bush and Stratford City, which will remain for the foreseeable future.

However, the brand has announced that permanent boutique stores are currently being fitted out and are expected to open in April.
Infiniti UK's Carl Bayliss said: 'Westfield has 70m visitors per year across the two centres. In terms of footfall and brand awareness this is ideal.
'We've already started taking orders from these pop-ups and one of the customers had not known of Infiniti prior to seeing it at Westfield. That word of mouth and traction will certainly help us in terms of what we're trying to achieve.'
Across the industry we've seen manufacturers attempting new innovative ways of engaging with customers, who might have previously been put off by the traditional dealership experience (why not take a look at Hyundai's Rockar venture, launched last year, or Renault's new dealership plans).

Bayliss revealed that Infiniti is also developing new strategies both online and in dealerships to improve the customer's experience.
Already underway is the new online 'path-to-purchase', which will be rolled out across the Renault-Nissan alliance and will go live for Infiniti UK at the end of Q1. Infiniti are now investigating new ways to ensure the customer receives the best experience from start to finish and currently under development is the 'Infiniti Guide'.
'Our total ownership experience is something we're looking to elevate here with Infiniti Guides, which will represent a jockey service,' explained Bayliss.
'As we expand our sales and aftersales points, these Guides will be your single point of contact for your ownership experience. When you're ready for your car to be serviced, we can send the guys out and they'll collect and deliver it back to you.'
MORE: Don't forget to enter the Car Dealer Power awards
MORE: Best week of trading ever for Motorpoint
MORE: Peugeot: We're regaining our old reputation for quality