JAGUAR Land Rover chief executive Ralf Speth has been awarded the top prize at the 2017 Autocar Awards – held yesterday straight after CDX17 in Silverstone's iconic Wing building.
Speth was presented with the Issigonis Trophy, named after the creator of the legendary Mini, in recognition of his contribution to Jaguar Land Rover's transformation following the sale of the brands to Tata Motors in 2008.
The Issigonis Trophy is given to the individual who has contributed the most to the health, excellence and competitiveness of the European motor industry. Together, the British luxury marques now constitute Britain's largest automotive manufacturer, with the company's three UK manufacturing plants producing more than 600,000 cars in 2016.

Design supremo Peter Schreyer received the Sturmey Award for his work across the Hyundai-Kia group, which has included the continual evolution of both the Hyundai and Kia product ranges, in his role as president and chief design officer. Named after Autocar's founding editor, Henry Sturmey, the award was created to salute innovation and achievement in the motor industry.
Joining Schreyer's success was Kia UK's chief executive and president, Paul Philpott, who took an Outstanding UK Leader award as the brand continues to achieve record sales following its 25th year in the UK.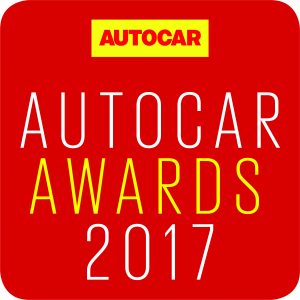 Mike Flewitt, chief executive of McLaren Automotive, picked up the inaugural Editor's Award for his impact on the company's success over the past year. Thomas Ingenlath, head of design at Volvo Cars, was given the Design Hero Award – and to celebrate, he showed off a unique Volvo V90, specified to his own brief.
Tobias Moers of Mercedes-AMG took the Engineering Hero gong, while Alan Gow was named Motorsport Hero for his work both as British Touring Car Championship director and for the Motor Sports Association.

Other industry professionals honoured included Mazda UK managing director Jeremy Thomson and Malcolm Wilson, whose M-Sport business is one of the world's leading private motorsport teams. They joined Philpott in receiving Outstanding UK Leader awards.
Accompanying their respective teams at the Silverstone ceremony, the very best new and used cars were out in force. Nominated by Autocar readers, the Volkswagen Golf GTI was named the most influential car in motoring history.
Not to be outshone, many other ground-breaking cars of today also joined the GTI in the spotlight, as six were named Autocar Game Changers: the Alfa Romeo Giulia, Aston Martin DB11, Tesla Model X, Renault Zoe, Toyota C-HR and Seat Ateca.
Accolades were also handed out for the Porsche Panamera, Bentley Bentayga and McLaren 720S for achieving five-star reviews. The Innovation Award went to the Lamborghini Huracán Performante for its aero-vectoring rear wing, while the Britain's Best Driver's Car Award went to two cars at the opposite end of the spectrum: the Porsche 911 R and Ford Fiesta ST200. Finally, the Mini Roadster picked up Used Car Hero, awarded in association with Warranty Direct, as named by Autocar's used car expert, James Ruppert.
Autocar editor Mark Tisshaw said: 'The Autocar Awards unite the industry through a passion for building, selling and driving the very best vehicles on the planet, and the winners named here are a testament to the talent that drives Britain's flourishing automotive industry.
'Congratulations must go to the winner of the Issigonis Trophy, Ralf Speth, the dedication of whom has played a special part in the evolution of two of the most iconic and cherished brands into the largest automotive force in the UK. What's most impressive is this staggering progress has taken place in less than a decade.'
Speth, pictured at top receiving his trophy, said: 'I am absolutely delighted to be given this very prestigious award, and I would like to thank the editors of Autocar magazine deeply. Autocar's standing remains the same as it has ever done. It is a hugely influential title with a long history in this great industry.
'This award is something that I cannot accept just on my own. It is an honour I accept on behalf of all the incredible people who work at Jaguar Land Rover. Together, we have been on quite a journey over the last few years, rapidly expanding our workforce, recruiting and nurturing the best engineers and focusing on innovation, design and customer satisfaction.
'We are the UK's biggest R&D investor and are always striving to be better than the best. It is a privilege to be leading such an organisation. I expected to do this job for two years, but now it's seven and I'm still enjoying it. I still find it amazing, contributing to this thing and helping shape it. Thank you, Autocar, for recognising Jaguar Land Rover's achievements. Here's to the next few years.'
The full list of the 2017 Autocar Awards and winners is as follows:
Issigonis Trophy
Ralf Speth, chief executive, Jaguar Land Rover
Sturmey Award
Peter Schreyer, president and chief design officer, Hyundai Motor Group
Editor's Award
Mike Flewitt, chief executive, McLaren Automotive
Five-Star Cars
Porsche Panamera
Bentley Bentayga Diesel
McLaren 720S
Reader's Champion
VW Golf GTI – The most influential car in motoring history
Design Hero
Thomas Ingenlath, design vice-president, Volvo Cars
Engineering Hero
Tobias Moers, chief executive, AMG-Mercedes
Motorsport Hero
Alan Gow, series director and administrator, BTCC
Innovation Award
Lamborghini Huracán Performante and its aero-vectoring rear wing
Britain's Best Driver's Cars
Porsche 911 R
Ford Fiesta ST200
Autocar's Used Car Hero
Mini Roadster
Autocar's Outstanding UK Leaders
Jeremy Thomson, managing director, Mazda UK
Paul Philpott, chief executive and president, Kia UK
Malcolm Wilson, managing director, M-Sport
Autocar's Game Changers
Alfa Romeo Giulia
Aston Martin DB11
Tesla Model X
Renault Zoe
Toyota C-HR
Seat Ateca
MORE: Autocar Awards reveals Vredestein as title sponsor
MORE: Haymarket Media invests £50m in What Car?, Autocar and Pistonheads in new automotive venture
MORE: Autocar Awards are returning to follow CDX at Silverstone
On SuperUnleaded.com: Young Boy Drives Hilux Back Home – Or Does He?