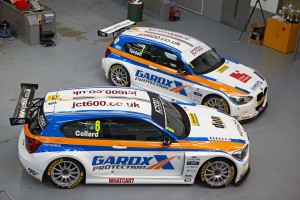 JCT600 and GardX are joining forces to sponsor West Surrey Racing (WSR) for the 2015 Dunlop MSA British Touring Car Championship.
Sam Tordoff and Rob Collard will be piloting the all-conquering BMWs under the 'Team JCT600 with GardX' banner.
WSR – one of the world's most successful touring car teams – took a clean sweep of BTCC titles in 2014, and four trophies are now proudly displayed at its Surrey base.

Young gun Tordoff will be teaming up with experienced race-winner Collard, while three-time World Touring Car champ Andy Priaulx will drive a third WSR-run BMW 1 Series.
The outfit has far from rested on its laurels during the off-season, however, having continued to test and develop its machines over the winter in preparation for a title defence with JCT600 and GardX.
Both JCT600 and GardX have a long association with motorsport. JCT600 founder Jack Tordoff was a successful international rally driver in the 1960s and '70s, winning the Circuit of Ireland Rally in his Porsche 911 Carrera RS in 1973.
His grandson Sam is now following in his footsteps, having cut a rapid ascent through the motor-racing ranks. From karting through to race-winning campaigns in the UK Renault Clio Cup and Porsche Carrera Cup GB, Sam's cars have always carried both the JCT600 and GardX logos. That tradition continued in his first two seasons in Britain's premier series, the BTCC, where the Yorkshireman claimed two victories.

Now making his move to the most successful team on last year's grid, and with the continued support of JCT600 and GardX, Tordoff believes he is in the best possible position to contend for the title.
'I am absolutely delighted to have joined WSR and to be continuing my long-term partnership with JCT600 and GardX,' said Tordoff. 'We have already had many great times together – including a number of victories – but this is by far our biggest and most exciting challenge yet. We have proved we can achieve great things and my career would simply not be possible without their support. Now I am racing for the best team to complement my already-outstanding partners and I can't wait to get the season under way.'
Collard is preparing to start his sixth successive season with WSR, bringing a wealth of speed and experience that has seen the popular Hampshire driver score an impressive eight career victories so far.
JCT600 has 50 dealerships across the north of England and have represented the BMW brand in Yorkshire since 1978. GardX is the sole supplier of vehicle protection systems to JCT600, providing exterior and interior protection solutions on all retail vehicles sold.
John Tordoff, JCT600 chief executive, said: 'JCT600 has a long and successful history in motor retail and motorport – for us, the two go hand in hand. We couldn't have put this deal together without the support of GardX and we are all looking forward to the season ahead.'
Victor Coutin, GardX managing director, said: 'We have been sponsoring Sam Tordoff since 2010, and to be able to continue this as now a headline sponsor for his and Rob Collard's forthcoming BTCC season is a privilege, as is the association with a winning team such as WSR.'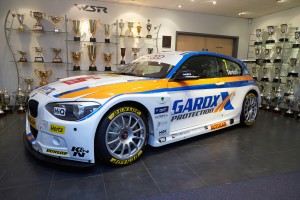 The opening round of the 2015 Dunlop MSA British Touring Car Championship will take place at Brands Hatch on April 4 and 5. Every race in the series is screen live by ITV4 and trackside crowds regularly top 40,000.
MORE: One in four adults looking to buy a new car in next six months
MORE: Lookers employee on 'Big Drive' to Barcelona
MORE: Want to take part in Car Dealer Power? Our deadline is looming
On superunleaded.com – This Nurburgring Biker Video Will Make You Feel A Bit Sick