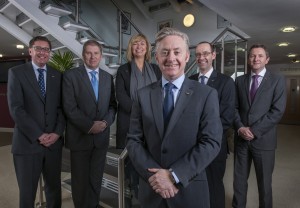 BRADFORD-based new and used motor retailer JCT600 drove record revenues of £1.025bn in the year to December 31, 2014, an increase of 13 per cent from the previous year's total sales of £906m.
Operating profit before goodwill and exceptionals rose by 14 per cent to £23.2m in 2014, thanks largely to the firm's continued expansion, with gross margins almost static at 11.7 per cent (11.8 per cent in 2013).
Chief executive John Tordoff said: 'Following our acquisitions from Gilder Group in 2013, last year was about bringing the new businesses into the JCT600 fold, and furthering our aims to grow the best car retail business, as well as being the best place to shop for a car.'

Building on significant increases in volume of new car sales in previous years, JCT600 once again out-performed the market with the company's new car sales increasing by 12 per cent compared with the UK average rise of seven per cent, and, after significant increases in recent years, the firm consolidated its used car business with growth in sales of one per cent during the period.
JCT600, which now comprises 50 dealerships and represents 19 new vehicle brands, has dealerships across from Yorkshire and the North East to Derbyshire, Lincolnshire and Nottinghamshire, and employs more than 2,000 staff.
Looking to the future, Nigel Shaw, group finance director at JCT600, said: 'This year also looks promising for us. With the General Election safely behind us, we can look forward to a more stable outlook which will allow consumer confidence to maintain its upwards trend.'
Originally founded in 1946, JCT600 remains a family firm with a long history in the motor industry. Current chief executive, John Tordoff is the son of Jack Tordoff who built the company up from a single garage over 44 highly successful years until he moved to the role of chairman in 2002.

Our picture shows John Tordoff (foreground), chief executive of JCT600, with directors, from left, Richard Hargraves, Simon Barrass, Katie Saunders, Nigel Shaw and Mark Taylor.
MORE: City Auction Group creates new fleet management team
MORE: Ford Mustang already sold out as Brits go V8 crazy
MORE: April new car registrations hit a 10-year high
On SuperUnleaded.com: Russian disabled parking bays guarded by holograms