Here's your business, motoring and news round-up for Friday, July 3
No further extension to furlough scheme, warns Johnson
Boris Johnson has warned there can be no further extension to the government's furlough scheme despite a fresh wave of job losses across the country.
Ministers are facing calls to extend the programme – which has protected more than 9m jobs during the Covid-19 pandemic – following the announcement this week of thousands of lay-offs in the retail and aviation sectors.

But in an interview with London's Evening Standard, the prime minister insisted it was not 'healthy' for either the economy or the employees concerned to maintain the scheme beyond its planned end date in October. Read more.
Ministers to reveal countries exempt from quarantine
Ministers are set to reveal a list of countries exempted from the coronavirus quarantine today.
Transport Secretary Grant Shapps will outline that people returning to England from Spain, France, Italy and Germany will be exempted from the 14-day quarantine.

He will set out the other countries to be exempted from the measure from July 10, but there is no guarantee that foreign nations will not require travellers from the UK to self-isolate on arrival.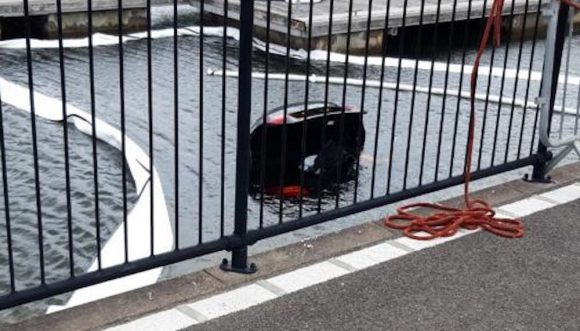 BMW M4 ends up underwater in marina
A BMW M4 Convertible has ended up submerged in a marina after rolling into the water in Portsmouth.
The car – which can retail for around £80,000 – is reported to have rolled into the marina after its driver parked up in a car park.
A berth holder at Port Solent Marina who saw the vehicle after the initial incident said that the car, which first crashed into the water at around 10am yesterday was parked in the berth holder's car park prior to its accident. A crane was later used to winch it out of the deep water.
Don't 'overdo it' when pubs reopen, says PM
Boris Johnson will urge the public not to overdo it when pubs and restaurants reopen in a warning that the health of the economy 'is dependent on every single one of us acting responsibly'.
The PM will lead a Downing Street press conference ahead of the easing of the lockdown in England tomorrow, which will be a major test for keeping coronavirus transmission down.
He is expected to impel people to act safely or run the risk of the government 'putting on the brakes' and bringing back severe restrictions, as has been witnessed in Leicester.
Vaccine hopes and US jobs boom move markets upwards
The vaccine hopes that helped save global markets from a drop on Wednesday again gave London's top shares a boost yesterday.
Although it is early days, Pfizer and BioNTech said they had seen hopeful signs in a trial of a vaccine they hope can inoculate against Covid-19.
And the good news continued, as the US economy added a record 4.8m new jobs in June. It helped the FTSE 100 end the day up a healthy 82.4 points to 6,240.36, a rise of 1.3 per cent.
High street sales spike drops off 
A rapid recovery in sales in the first week after non-essential stores were allowed to reopen tapered off in the following days, according to new data.
Sales were around a fifth lower than last year in the first two weeks of last month, but rebounded to only 7.1 per cent down after June 15, when non-essential shops were allowed to reopen.
But hopes of a rapid rebound may have been dealt a serious blow the next week, as the decline widened to 15.5 per cent, a tracker from BDO shows. 
1,900 jobs to go as Cafe Rouge owner calls in administrators
The owner of Bella Italia, Cafe Rouge and Las Iguanas has said it plans to cut 1,909 jobs after calling in administrators.
The company said it would close 91 of its 250 restaurants, but has saved others for now. It still leaves around 4,050 workers at the company's sites across the UK.
The board said it is looking for a new owner, but that the administration would allow it to end negotiations with landlords, a 'critical step' before finding a buyer.
North Wales site hardest hit by 1,700 Airbus job cuts
Aerospace giant Airbus has revealed details of its plans to axe 1,700 jobs because of the impact of the coronavirus crisis, with its plant in North Wales set to bear the brunt of the cuts.
The company said it had opened talks on its 'adaptation plan', which it unveiled earlier this week in response to the collapse in air travel as a result of the pandemic.
As part of the discussions, Airbus confirmed the need to reduce its workforce in the UK by around 1,700. It announced that 1,435 jobs will be cut at its site in Broughton, North Wales, and 295 at Filton, Bristol.
Two thirds of Brits to 'actively avoid public transport' 
Two thirds of Brits have admitted that they will be actively avoiding public transport when they travel to work again, according to new research.
A survey conducted by breakdown firm Green Flag of 2,000 people found that some 62 per cent were going to avoid public transport if possible, while a quarter of all commuters said that they were considering a new mode of transport.
A quarter of Londoners were planning to use a new mode of transport, with close to a fifth claiming that they were shopping around for a bicycle to commute on – more than any other region in the UK.
Watch our interview with Peter Vardy below and read about it here