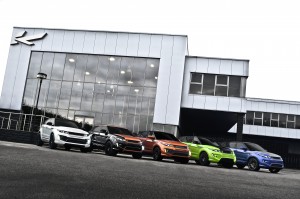 NEW figures show heightened residual values for enhanced luxury vehicles have been maintained.
Vehicles with aftermarket modifications have traditionally posed a problem for consumers, with a lack of clarity about the effect that aesthetic or performance enhancements have on the residual value.
To increase customer confidence in the added value associated with their vehicle enhancements, Kahn has been working with independent trade specialists CAP for the past two years, commissioning a quarterly report to assess the residual value of its Project Kahn and Chelsea Truck Company vehicles.

The first figures were released in late 2013, with an update each quarter since then, encompassing the full range of vehicles offered by the British design group.
The CAP Black Book is used as the industry benchmark for used car disposal values and provides comprehensive used car valuation data for the majority of cars on the market.
The second quarter figures for 2015 show that the heightened residual values highlighted by the initial research have continued to be maintained, with little movement between Q1 and Q2.
Below is a list of models with their Q1 and Q2 2015 CAP Black Book values above the standard model:

Range Rover 600-LE
Q1: +14%   Q2: +14%
Range Rover RS-600
Q1: +14%   Q2:  +14%
Range Rover RS-650
Q1: +18%   Q2: +18%
Range Rover Sport 400-LE  
Q1: +16.5%   Q2:  +16.5%
Range Rover Evoque Ground Effect Edition  
Q1: +9%   Q2: +10%
Range Rover Evoque RS Sport  
Q1: +16%   Q2:  +17%
Range Rover Evoque RS-250    
Q1: +22%   Q2: +22%
Jeep Wrangler CJ300  
Q1: +12.5%   Q2: +12.5%
Defender XS 90 Chelsea Wide Track
Q1: +18%   Q2: +17%
Defender XS 110 Chelsea Wide Track    
Q1: +21%   Q2: +20%
Kahn is among the first in the industry to commission and publish this type of transparent research, allowing potential customers to make an informed decision on their investment into a new vehicle.
Afzal Kahn, founder and chief designer of the Kahn Group, said: 'The results reflect the dedication of the company to improve not just the overall styling of vehicles, but to add value and quality to them as well. We're pleased to be able to offer potential customers an independent assurance that investing in a luxury vehicle from Project Kahn or the Chelsea Truck Company is a sensible decision.'
MORE: Duo taking on charity challenges in memory of young Elliot
MORE: Wessex apprentice to act as role model for ACT Training
MORE: Matt's getting ready for a fund-raising skydive

On SuperUnleaded.com: Kim Raikkonen signs for Ferrari again, here's why we love him