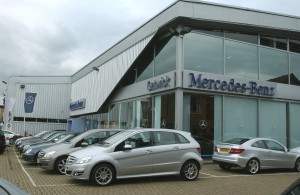 LOOKERS GROUP is set to open a new Mercedes-Benz dealership, near Gatwick airport.
The new dealer, on the outskirts of Crawley in West Sussex, is opening to handle the extra demand caused by the existing Lookers Mercedes dealer in the town.
The new premises bring with it a great number of improvements for Lookers Mercedes – including increased space, both in terms of parking for customers and space for approved used vehicles on the forecourt.

In addition, the number of Mercedes models on display inside the showroom will also be able to increase – giving customers a bigger choice.
Also at the new facilities is a Mercedes-Benz 'My Service' system – a drive-through service bay that aims to speed up the time it takes for a customer to hand over their vehicle for work.
Using the new system, customers needn't approach a reception desk to discuss the work and hand over their keys: instead, they simply hand them to a service advisor who will be 'ready and waiting' for their arrival.
An AMG Centre has also been added – showing off Mercedes's range of ultra high-performance vehicles.

The new showroom, located on Gatwick Road, Crawley, will be open from mid May.