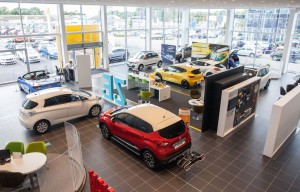 ONE OF the UK's leading motor retail groups has underlined its confidence in Renault and Dacia by investing heavily to develop a new flagship showroom for the brands in Kent.
Motorline Group invested £3.5 million into the redevelopment of its existing site in Bircholt Road, Maidstone – creating a striking state-of-the-art outlet that showcases the very best of both marques.
The rapidly-expanding group also operates thriving Renault and Dacia franchises in nearby Ashford and Canterbury. And its investment in a new 'gold standard' showroom demonstrates its faith in the brands' bright futures.

Gary Obee, managing director of Motorline Renault, said: 'Renault and Dacia are brands on the rise with outstanding consumer appeal and model line-ups that are getting stronger and stronger. We are extremely pleased with the new showroom. It's an inviting and engaging place and it looks fantastic.'
Darren Payne, sales director, Renault Group UK, said: 'We're thrilled that one of our long-standing and valued dealer partners shares our vision for the future of the Renault and Dacia brands and has demonstrated its faith in the our plans for growth with an investment of this kind.
'The new showroom is an amazing facility.'
Renault Group sales – comprising of Renault cars, vans and Dacia – were up 15.2 per cent to 62,476 vehicles in the first six months of 2015 according to the latest SMMT figures.

And the growth looks set to continue as the Group enters new market segments in the coming months and launches exciting new models like the Renault Kadjar crossover.
Thirteen new retail partners have joined the Renault and Dacia franchise over the past 12 months.
Established in 1972, Motorline joined the Renault Group in 1993 and the partnership has proved extremely successful.
MORE: Plug-in registrations for 2015 have surpassed 2014's total already
MORE: New Fiat 500 pricing and spec announced
MORE: Almost 500 leads as Mercedes-Benz pop-up shop proves a huge success
On SuperUnleaded.com: Driver Punches Motorcyclist, Things Escalate Quickly