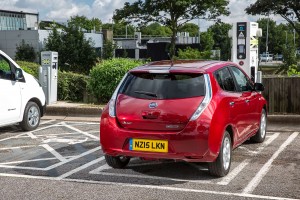 REGISTRATIONS of plug-in cars have accelerated rapidly over the first six months of 2015, surpassing the 2014 full-year total with six months to spare.
New analysis by Go Ultra Low shows that more and more motorists are switching on to the money-saving benefits of buying a plug-in electric vehicle.
From January to June, 14,586 new registrations of ultra low emission vehicles (ULEV) were made, a significant year-to-date increase on the 4,096 of the same timeframe in 2014.

The record volumes exceed last year's 14,498 annual total registrations of vehicles eligible for Government's Plug-in Car Grant, the highest volume ever at the year's halfway point.
The same comparison of January-June registrations for 2014 against 2013 saw an increase of 163 per cent, the robust rises emphasising the sustained and increasing scale of the UK electrically-powered vehicle market.
Transport Minister Andrew Jones said: 'Soaring demand across the UK shows that more and more people view ultra low emission vehicles as the right choice for them.
'Plug-in cars are green, cheap to run and benefit both families and businesses.'

The government expects that five per cent of new car registrations (around 100,000 units) will be ultra low emission by 2020.
Hetal Shah, Head of Go Ultra Low, said: 'Being just six months in to 2015 and having already exceeded last year's total plug-in car registrations is testament to consumer confidence in this capable and cost-effective technology.
'The year-on-year rises give us great confidence in the future of electric cars.'
MORE: New Fiat 500 pricing and spec announced
MORE: Almost 500 leads as Mercedes-Benz pop-up shop proves a big success
MORE: Range Rover safety recall over doors that could open themselves
On SuperUnleaded.com: Fully functioning hover bike is the coolest thing you will see all day