AUDI designer Daniel de Jong is stood in front of the world's media explaining how the amazing new technology inside the brand's most futuristic road car to date works.
But as the press get the chance to pore over his hard work inside the new flagship A8 – complete with a twin touchscreen interior and clever autonomous functions – de Jong already has an eye on what's coming next.
'I'm proud to be showing off this new interior and be finally revealing our hard work, but it's strange already knowing what we're working on for the future,' he explained.

'We started work on the new A8's interior back in 2012 and our work was pretty much done by 2015 – it's been in preparation for a while. I've already moved on to the next big project.'
As one of the key designers at Audi's Ingolstadt head office, de Jong has worked on some exciting projects for the manufacturer. Some he can reveal; others he can't.
'I was one of the team that first worked on the Virtual Cockpit,' he said. That's the digital screen replacement for Audi's dash, which lets drivers change the view behind the steering wheel from dials to sat nav at the touch of a button.
'We took an old-shape Audi TT, ripped out the dashboard and added the digital version to it,' he said. 'We played with the functions, worked out what it could do and that was incredibly exciting.'

Now his handiwork has seen that Virtual Cockpit take centre stage in the new A8 alongside two large touchscreens that have replaced the car's MMI system. Sat nav, media and heating are all controlled with a digital display with 'haptic' feedback – the same sense of touching a real button you get on your smartphone.
But what's next for the interiors of the future? Dutchman de Jong admitted it can be strange working all day on a new car's interior that won't be around for five years.
'When you leave work and get back to the "real" world, it feels strange – especially as I know what's coming next,' he said. 'But it's also very exciting. The cars we're working on now might not necessarily be focused around the driver. Autonomous cars will mean we use our vehicles in different ways.
'Perhaps in the future it won't be as important to control cars the way we do, as we'll have more time to take our eyes off the road. In-car entertainment may play a bigger part as we'll be able to watch the TV as the cars drive for us.
'We're thinking very carefully now about what the interiors of cars will look like without steering wheels, too. At present, the rear seat passenger in the A8 is the king, but in the future we could treat all occupants the same.'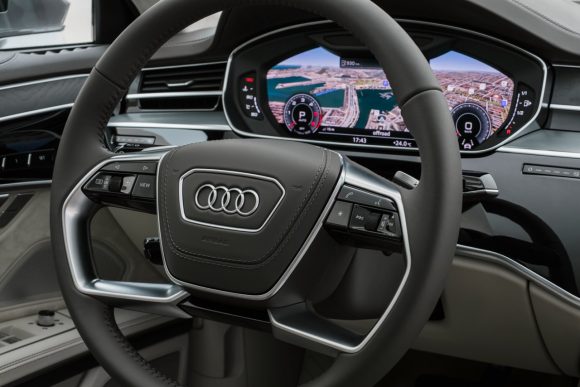 He also revealed his next major project will be launched in 2021 and will debut on an all-new model for the manufacturer.
'I worked on the electric Audi R8 project – the eTron – a while back, which was very enjoyable as we could do great things inside that car,' said de Jong.
'I can't tell you what my next project looks like, but I can assure you we will be continuing to innovate just as we have done on this latest A8. This is the very best of what we can do now, but the future looks very interesting indeed.'
Expect to see this twin-screen set-up rolled out to the A7 and A6 next, but how far it will trickle down the range is unknown. 'We know it fits in some cars, but others will be a challenge,' added de Jong. One thing's for certain: if anyone knows how to work it out – it's him.
MORE: Aston Barclay opens new mega centre after creating 50 new jobs
MORE: Dealers heading into a spell of reduced profitability, says ASE
MORE: New Nissan Leaf makes its European debut as limited-edition 2.Zero goes on sale
On SuperUnleaded.com: Road-legal upside-down Chevy Camaro invokes wrath of homeowners' association