MERCEDES-AMG has pulled the covers off its F1-engined hypercar – the Project One.
Revealed at the Frankfurt Motor Show last night, the German manufacturer claims the high-performance hybrid show car produces close to 1,000bhp and has a top speed in excess of 217mph.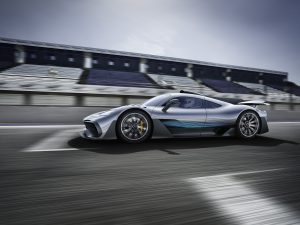 The car's hybrid drive system is lifted straight from Formula 1, and combines a 1.6-litre turbocharged V6 with four electric motors – providing the Project One with all-wheel drive.

While no 0-60mph time has been given, Mercedes claims it can reach 124mph in less than six seconds.
In addition to blistering performance, Project One's electric motors also enable it to travel as far as 16 miles on battery power alone. When charge runs out, it can then be plugged in to an energy source.
Ola Källenius, member of the Daimler AG board of management, said: 'The Mercedes-AMG Project One is the first Formula 1 car with MOT approval.
'Our highly efficient hybrid assembly stems from motor racing and the electrically powered front axle generates a fascinating mixture of performance and efficiency.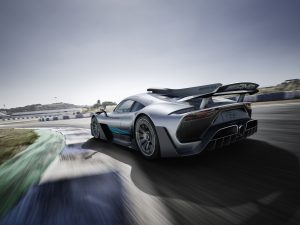 'With a system output of over 1,000hp [992bhp] and a top speed beyond 350km/h [217mph], this hypercar handles exactly as it looks: it takes your breath away.'
While the Project One is only in concept form at present, Mercedes claims it gives 'specific indications' of what to expect from the production model.
Tobias Moers, head of management at Mercedes-AMG, said: 'The hypercar is the most ambitious project we have every undertaken. It marks yet another pinnacle of the successful, strategic development of Mercedes-AMG towards a performance and sports car brand.
'Project One raises the bar in terms of what is currently technologically feasible and thanks to its combination of efficiency and performance it represents an absolute benchmark.
'At the same time, Project One provides an outlook on how AMG will define driving performance in the future.'
MORE: Frankfurt Motor Show – five to look out for
MORE: PSA Group denies allegations of emissions tampering
MORE: TVR Griffith heralds a new dawn for British manufacturer
On SuperUnleaded.com: Armed robbers steal £75,000 in cash at Goodwood Revival