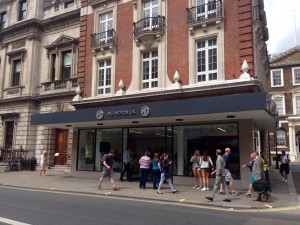 MG Motor UK has opened the doors of its new flagship showroom in the prestigious area of Piccadilly, London.
The showroom, part of MG's major expansion of dealerships, is a significant move for the marque. Having a flagship showroom in London places MG in the heart of the growing economy and, it says, shows the brand is back and here to stay.
Matthew Cheyne, MG's head of sales and marketing, said: 'This is a really exciting day for us, as it marks the official opening of our flagship showroom.

'This showroom will act as a shop window for anyone interested in MG. They will be able to take a look at the cars we are selling, get a preview of what the highly-anticipated SUV will look like and gain an insight into the modern MG brand and the direction it's going.'
MORE: Pinewood acquires Ebbon-Dacs' DMS business
MORE: What do buyers look for in their new car? Here's the top 10 reasons to buy…
MORE: Does the colour of your car make it more prone to prangs?

MORE: Issue 89 of Car Dealer Magazine is ready to be downloaded to your iPad now
On superunleaded.com – Bond Gets Busy In Aston Martin DB10 For New Movie