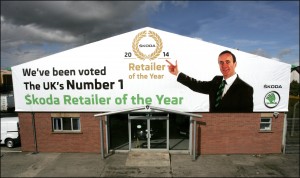 INDEPENDENT dealer John Mulholland Motor Group has been named the UK's number-one Skoda dealership.
The Co Antrim company, based in Randalstown and which earlier this year completed a £1m refurbishment, beat off 135 other Skoda retailers to claim the prestigious crown at a gala awards ceremony in Seville, Spain.
'We're blown away by this accolade,' said company owner John Mulholland. 'It's a monumental achievement for the dealership and underlines the incredible work everyone here has put in over many years.'

It is the first time Skoda have awarded their top accolade to a dealership from the province.
'We've managed to see off every single dealer, from every big city across the UK, including a number of major plcs like Lookers, Arnold Clark and the Ridgeway Group,' said Mulholland.
'Skoda judged us on every key metric, from new and used car sales through to customer service, to parts, after-sales, return on investment – indeed, they go through their dealerships with a fine tooth comb.
'Yet we still produced by far the best figures across all measurements. We're over the moon. It's such an honour to receive this sort of recognition from Skoda, especially when you consider the level of competition from the rest of the network.'

Mulholland got a whiff of what was in store when he and his wife Alicia were flown first class to Dubai, where Skoda's UK managing director Alisdair Stewart hosted them to a VIP bash at the luxury, seven-star Burj Al Arab hotel. Skoda board member Werner Eichhorn personally presented John with a plaque to commemorate gaining the accolade of number one dealership in the UK.
From there they were whisked off to the Skoda UK Retailer of the Year awards in Seville hosted by Claudia Winkleman from the BBC1 show Strictly Come Dancing, where they saw off every other dealership and clinched the night's top prize.
Mulholland added: 'This means so much to the group and our 60-plus staff. When I started this business, I never thought it would end up with us receiving this sort of recognition from one of the most important car brands in the UK market. This award is the culmination of 15 years hard work with the Skoda company.
'It comes on the back of one of the most successful trading years in our 26 year history, when we've enjoyed unprecedented success with our Skoda range.
'We've got our reward for having the right people in the right job delivering the right level of performance.'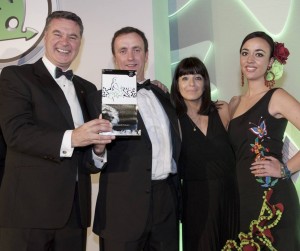 The Mulholland Group, which also supplies Ford and Hyundai brands and includes the U-First used-car department, operates from a state-of-the-art complex at Randalstown, complemented by a sister showroom at Campsie, near Derry.
'It is unbelievable to think where we have taken this business in the past 15 years,' said Mulholland.
'From a green field on the outskirts of Randalstown to a sprawling two-acre, high-end motor retail complex, as well as a second site in Derry… you cannot help but be impressed when driving into Randalstown to see the most up-to-date modern retail car showroom in the UK.'
And he added: 'The good news is we're already off to a good start in the race to retain our title for 2015!'
Picture above shows Alasdair Stewart, the managing director of Skoda UK, John Mulholland, the BBC's Claudia Winkleman, and a local Spanish senorita
MORE: Lookers reward their best-performing staff at glittering ceremony
MORE: Surge in visitor numbers year-on-year for Motors.co.uk
MORE: Come and join us at the Car Dealer Conference and Automotive Expo
On Superunleaded.com – How To Spot One Of The Latest Unmarked Police Cars