SKODA has revealed its all-new Octavia with hybrid technology and a refreshed look.
Marking 60 years since the first Octavia rolled off the production line, the Czech machine adopts the firm's latest corporate design. The result is thin LED headlights flanking a wide chrome-trimmed grille, with simple body lines and an elegant approach at the back.
There's also more boot space than ever, thanks to increased vehicle dimensions, with 600 litres in its hatch body style – rising to 640 for the estate variant.

Powering the car, which is available in hatchback or estate form, is a selection of petrol, diesel and plug-in hybrid engines. Although full UK availability has yet to be confirmed, we can expect to see the iV model, which pairs a 1.4-litre petrol engine with an electric motor. European markets will also benefit from the inclusion of a CNG-powered option, but that's extremely unlikely to be brought to the UK.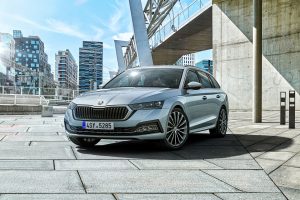 It's also the first Skoda to use shift-by-wire for its DSG automatic transmission. This sees mechanical gear selection replaced with electronic controls, in turn translating to a smaller shift selector.
Inside, the driver is met with a new two-spoke steering wheel design, featuring a new layout of buttons and scroll wheels to control various functions. Behind that is the firm's Active Info Display technology, which replaces traditional dials and gauges with a screen to show key information.
A centrally mounted infotainment system ranges from 8.25 to 10 inches in screen size, which will also incorporate the firm's new Laura digital assistant – similar to Amazon's Alexa or Google Assistant. USB-C ports are dotted around the cabin, too, enabling faster smartphone charging.

Skoda has also brought in new 'Simply Clever' features, including smartphone storage pockets on the back of the front seats for the benefit of passengers in the back.
Pricing and specifications for the new Skoda Octavia have yet to be confirmed, but the car is expected to arrive on the market early in 2020.
More than 6.5 million Octavias have been sold since production began.
MORE: Skoda rolls out Digital Assistant app to all UK retailers
MORE: Mervyn Stewart named Skoda's top UK retailer