NextGear Capital has certainly been reaching some pretty significant milestones recently. We recently caught up with managing director Liam Quegan to find out more for this sponsored post.
It was quite an announcement: the fact that NextGear Capital had provided an incredible £3 billion of vehicle funding.
The leading provider of stock-funding plans, part of the Cox Automotive family, hit the landmark figure in July, just over five years after launching in the UK and Ireland.


With almost 1,800 dealers on board, NextGear Capital has funded more than 420,000 vehicles and agreed 1,700 limit-increase requests to help customers expand their businesses.
They're big numbers – and provided a very positive backdrop when we caught up with managing director Liam Quegan, pictured, recently.
Looking back at the growth of NextGear Capital, he said: 'It's been amazing. The appetite for our product is really strong, and of that 
£3 billion we're proud that we've delivered 
£1 billion in the last year.
'We really feel as though we are helping car dealers to succeed, which is great.'

NextGear Capital works with franchised 'but mainly independent' dealers, said Quegan. And stock funding – where dealers buy cars up to a financial limit set in agreement with the company – is proving ever more popular.
'It's become a lot more mainstream,' Quegan said. 'I wasn't in the industry 10 years ago, but I gather it wasn't something that happened that much back in the day.
'Many of our dealers see it as a core part of how they do business these days, whether they are working with NextGear or a different provider.
'And the thing that has definitely changed in the last 18 months is that independent dealers have become more sophisticated in the way they use funding.
'They may use certain funding streams for certain kinds of stock. We have dealers who use us when they are expanding but maybe use one of the High Street banks day to day, and we have other dealers who use us for everything.'
Another change in the market that Quegan has noticed recently is that dealers are mixing it up in terms of sourcing stock.
'Ten years ago, auctions and part-exchanges were the two main options,' he explained.
'Now, dealers are buying digitally and they're buying privately off Auto Trader – that's a modern-day phenomenon. It goes without saying that used cars have grown in importance now that new cars are struggling.
'It's also causing used car dealers some issues, because as the big franchised dealers have got more into used cars, the competition for good-quality stock has become even more intense. People are having to adapt.'
One obvious benefit of using a stocking plan is that rather than being tied up in the metal on the forecourt, a dealer's own money can be freed up for other projects.
Technology upgrades
'Exactly,' confirmed Quegan. 'Certain dealers might use their capital to build a great showroom, for example. Those things cost money. If they would rather divert some capital to do that and use funding from us to put cars on their forecourt, there is a mutual benefit there.
'We see that with all sorts of dealers, but particularly dealers who are selling really nice cars and want their dealership to become a bit of a destination and enhance the customer experience.'
So, what does the future hold for NextGear Capital? 'I think we still have room to grow,' said Quegan. 'We have existing dealers who will partner with us more strongly, but there are plenty of dealers who are not using our product yet who would benefit from it.
'We're going through some technology upgrades this year and next year which will enhance certain aspects of our already-impressive customer service. We'll probably look at some other products as well.
'We recently introduced a product that specialises in supercars. That was rolled out at the start of the year and has been a real success. It's not beyond the realms of possibility that we will look at other variants.
'I could see us doing something in the recreational vehicle space. I could also see us doing something with motorbikes – there are some really fantastic dealers who deal in both.'
If dealer behaviour when it comes to sourcing stock is changing, there are huge developments taking place in the market as a whole. New powertrains, mobility as a service, Brexit… there's no shortage of talking points.
Quegan told us that NextGear Capital works with a couple of EV dealers and that they were doing 'fantastically well'.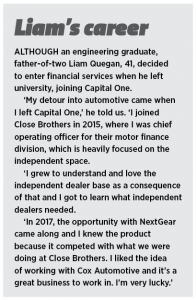 'EV is really exciting,' he said. 'And the other thing that's really interesting is how younger people are using vehicles.
'Millennials are using cars less. So we need to find a way as a market about how we encourage those people to use cars.
'I'm not saying all millennials don't drive. Of course, that's not true, but proportionally, they are less likely to drive. We're going to have to see what sort of products attract them.'
We couldn't conclude our chat with Quegan without mentioning the B-word – and Brexit is definitely having an effect on the car market with the new deadline of October 31 getting ever closer.
Although he conceded that the current state of flux was leading to some 'pessimism' in the market, Quegan continued: 'A lot of the dealers we work with are actually relatively buoyant. It's not all doom and gloom, and there's a danger that we could talk ourselves into a problem that isn't really there.
'Of course, 
we shouldn't
 be naïve, but there are plenty of reasons for optimism.'