by Sue Robinson, director of the National Franchised Dealers Association (NFDA), which represents franchised car and commercial vehicle retailers in the UK
THE United Kingdom is only a few days away from its planned departure from the European Union. The legal and political reality is that the new government under prime minister Boris Johnson will take the UK out of the EU on October 31, with or without a deal.
The current climate of uncertainty has been affecting businesses and consumers for several months.

Whilst a 'no-deal' Brexit has always 
been the NFDA's least favourite outcome of the 
Brexit negotiations, we have repeatedly encouraged dealers to plan for any scenario resulting from Brexit.
There are about 4,500 automotive franchised retail sites in the UK whom we now urge to take very seriously the idea that a 'no-deal' Brexit is fast approaching. Businesses must take the necessary steps to mitigate the potential threats associated with this outcome.
If the UK leaves without a deal, it will immediately shift to trading under the World Trade Organisation framework. Trading on these terms is likely to involve tariffs on imports and exports, an increased regulatory burden for businesses and delays to the delivery of vehicle stock and parts.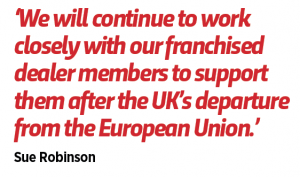 To support dealers during this phase of transition, we have launched a dedicated NFDA Brexit helpdesk, Brexit dealer-focused guidance plus a Brexit online portal, and we will hold a Brexit no-deal dealer guidance forum in Belfast on Wednesday, October 30.

The guidance documents include a list of key questions, compiled by research body ICDP, for franchised dealers to ask of their manufacturer partners, suppliers and themselves.
These questions will support franchised dealers in assessing the risks to their business by seeking assurance and guidance from their manufacturers. Additionally, the NFDA's retained solicitors have prepared guidance documents on specific issues such as trade and tariffs, customs and deliveries and finance.
The retail automotive industry provides employment for about 555,000 people, and with an annual turnover of £200 billion, it is vital that the stability of our sector is safeguarded.
Over the past two years, the NFDA has been running a Parliamentary Engagement Programme to raise awareness of the key contributions our industry makes to the local and national economy.
Under the programme, we invite MPs and Parliamentarians to visit the dealership in their constituency to gain a better insight into our industry. We will continue to engage with relevant Members of Parliament to ensure that the franchised dealers' voice is heard.
In December, our 'Prepare for 2020' round of regional meetings will be taking place across the country. The potential implications of Brexit as well as the likely post-Brexit regulatory environment, with a focus on any changes affecting dealers, will be at the top of our agenda. We advise our members to attend this extremely important series of meetings.
Additionally, to continue to best represent our franchised retailer members' interests not only in the UK but also at a European level, we have joined forces with a number of European counterparts to form the Alliance of European Car Dealers and Repairers (AECDR).
AECDR has already contributed to the European Commission's consultation aimed at evaluating the Vertical Block Exemption Regulation and will be lobbying for a new Vertical Block Exemption Regulation including supplementary guidelines. Going forward, AECDR will be engaging with MEPs, EC officials and other relevant stakeholders.
The National Franchised Dealers Association (NFDA) is the voice of automotive retailers and we will continue to work closely with our franchised dealer members to support them after the UK's departure from the European Union.