The new edition of Car Dealer is out now – and it's packed with news, views, reviews and features!
Issue 189 is free to read and download – here's a sample to whet your appetite…
Dashboard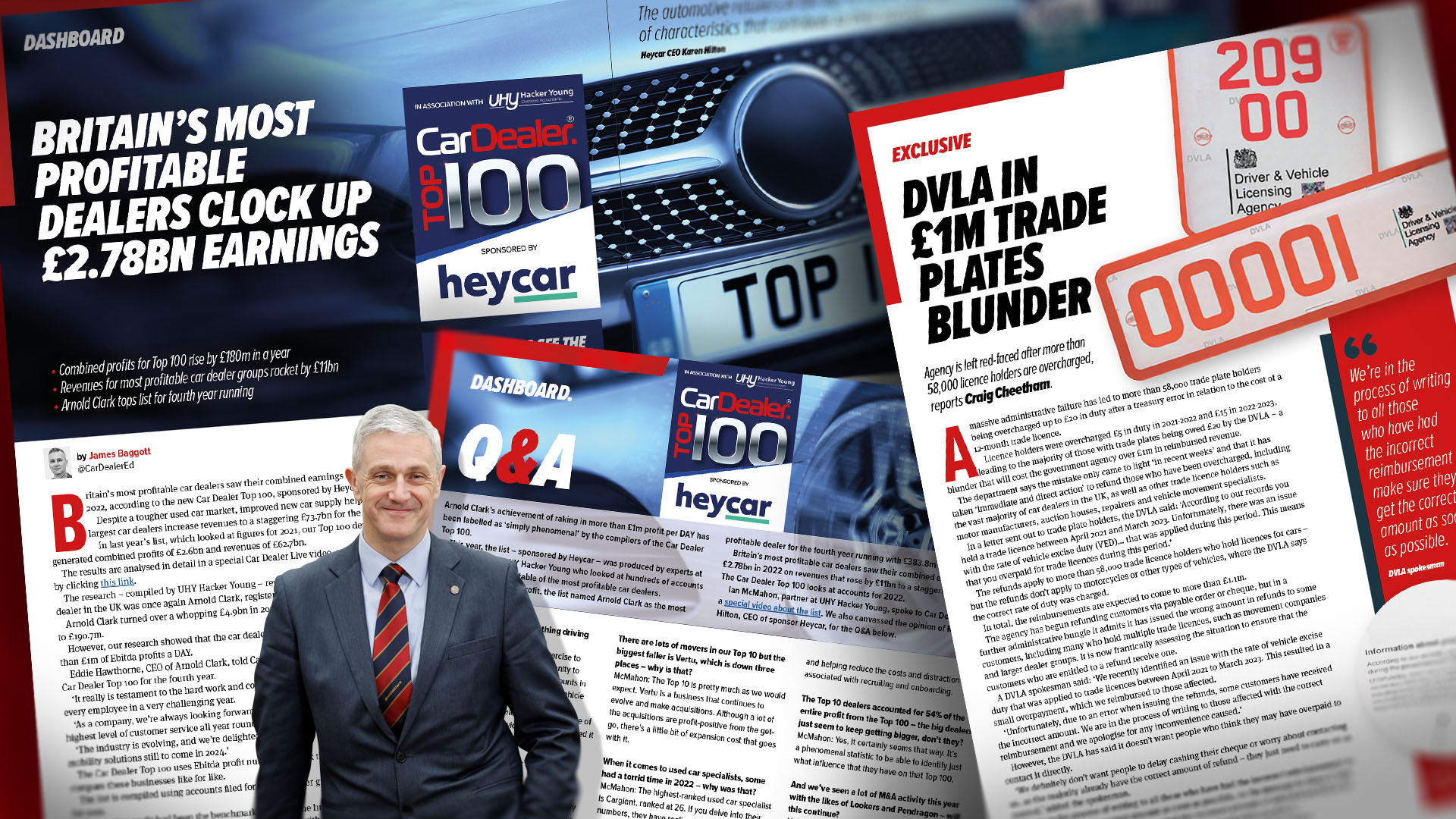 Which dealers in the UK make the most money? Find out here in our new Top 100 list of the most profitable dealerships. Plus, we get insights from sponsor Heycar and list compiler UHY Hacker Young.

We've also got an exclusive on how the DVLA has had to pay out more than £1m after overcharging trade plate holders.
Car Dealer Used Car Awards 2023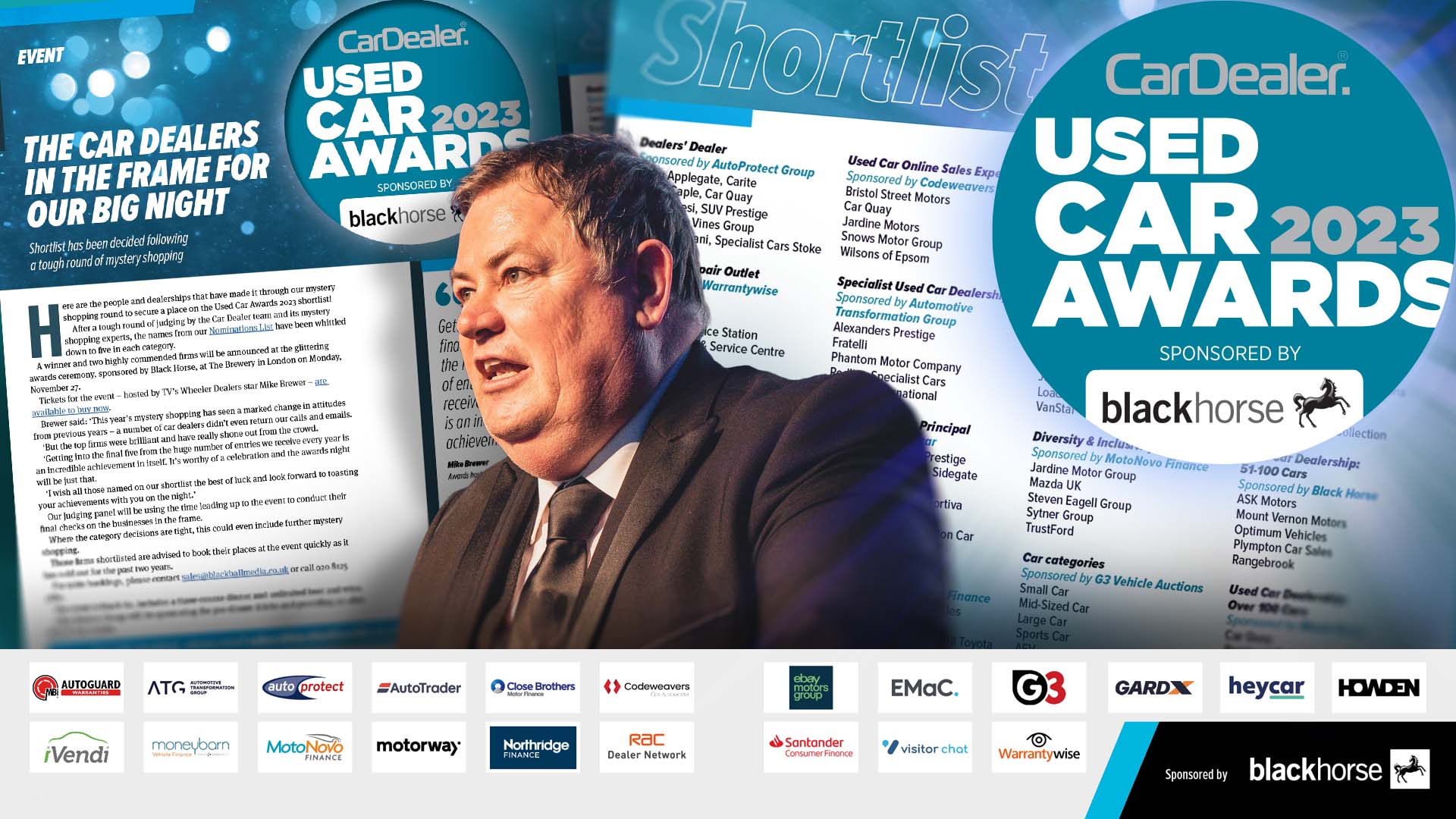 With just a few days to go now until this year's Car Dealer Used Car Awards, sponsored by Black Horse, find out who's made the final cut to be a winner or be highly commended.
The big night takes place on Monday, November 27 at The Brewery in London and will be hosted once again by TV's Mr Wheeler Dealer – the one and only Mike Brewer!

There'll be full picture coverage of the event in the next edition of the magazine.
Forecourt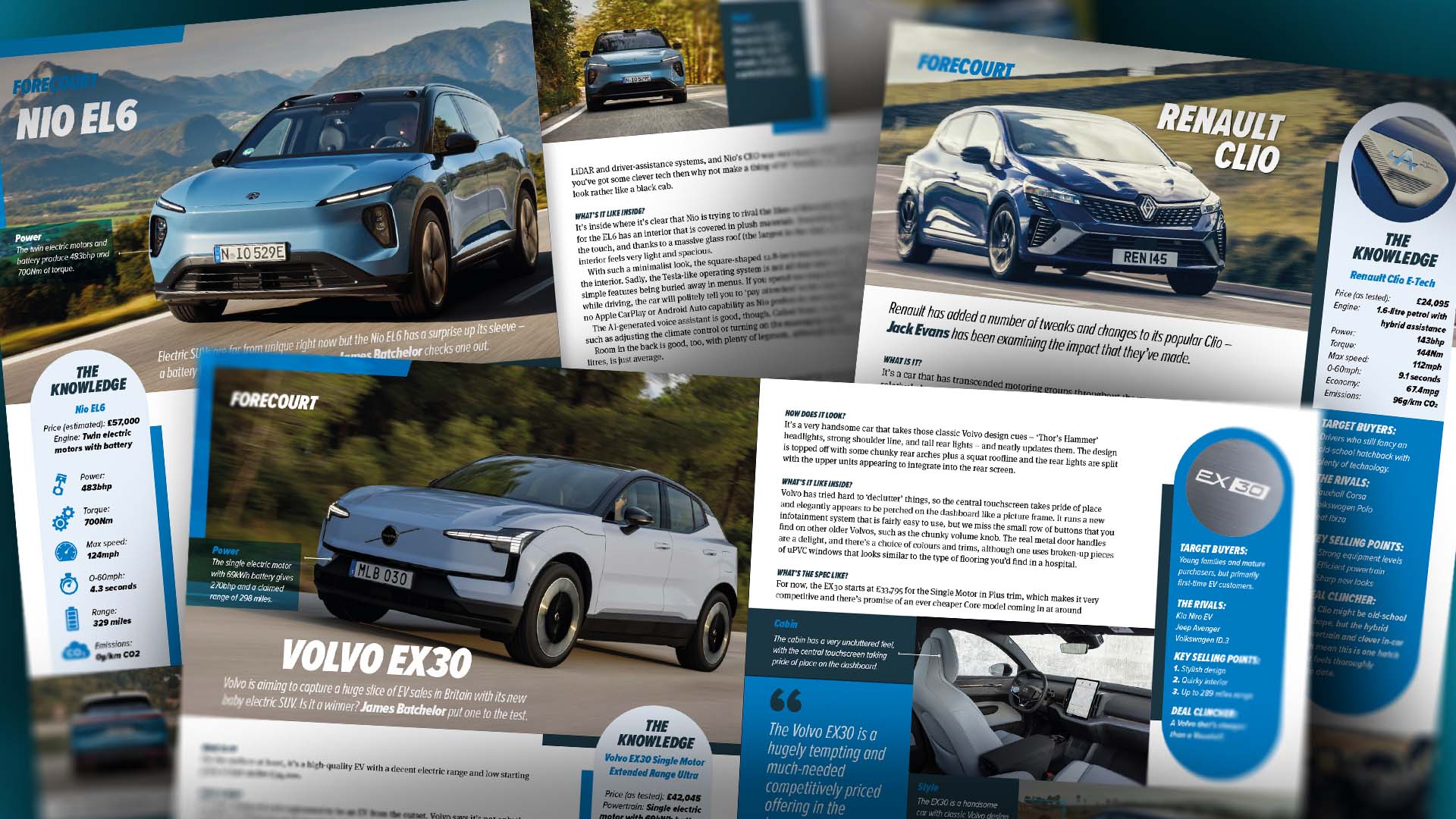 Car Dealer associate editor James Batchelor and motoring writer Jack Evans were given the keys to three new cars to put to the test for this month's magazine.
Find out what they thought of Volvo's new baby electric SUV the EX30, Chinese carmaker Nio's bid for the same sector with its EL6, and Renault's updated Clio.
Features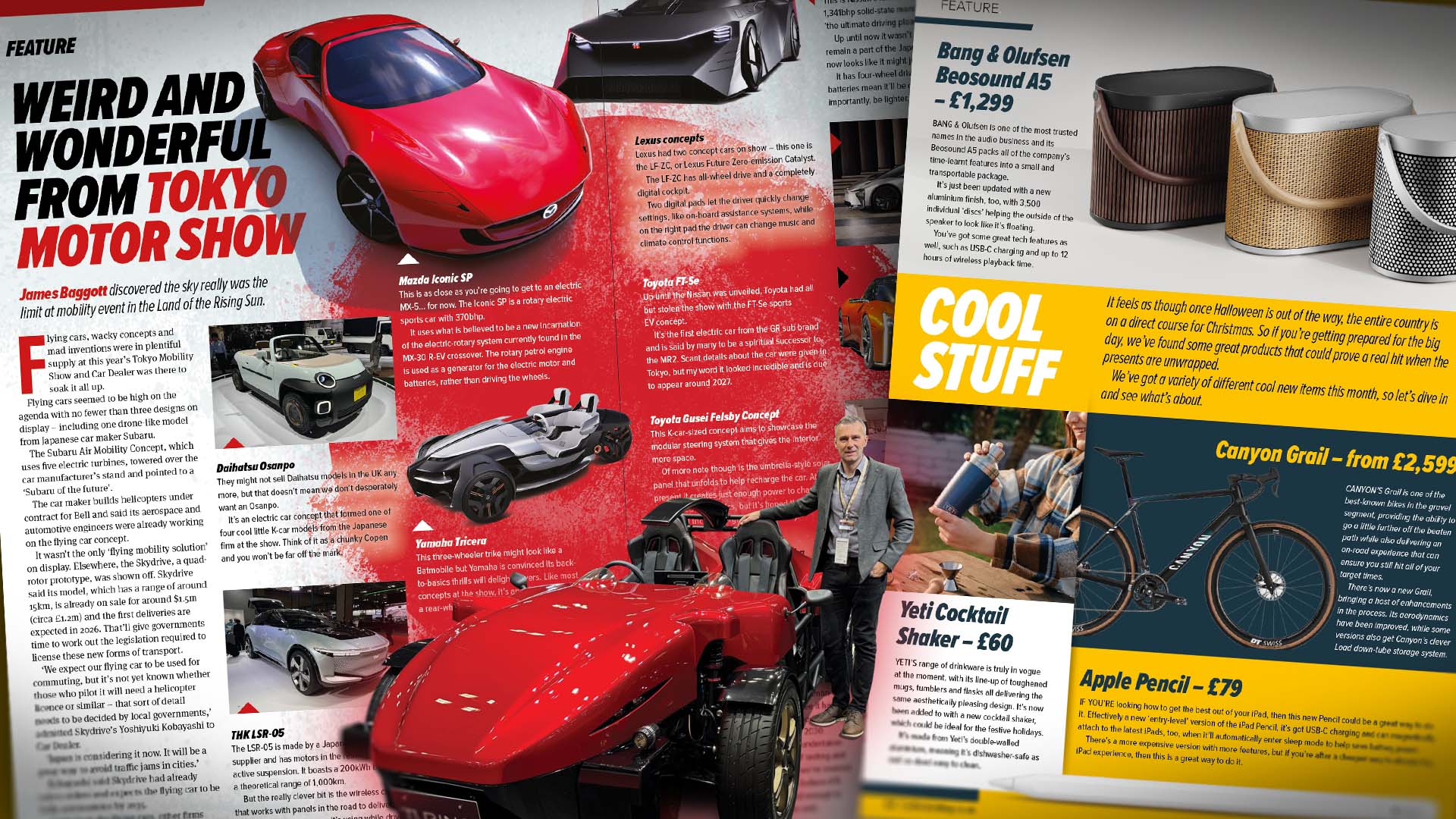 Car Dealer editor-in-chief James Baggott found some truly weird and wacky vehicles when he went to this year's Tokyo Mobility Show! We present his highlights of the event.
Christmas is coming (if you hadn't already noticed), so our regular Cool Stuff page focuses on possible gifts to make a big impression.
Columns
Our popular mystery columnist Big Mike recalls the days of paper tax discs that allowed for a tidy little loophole for car dealers
Meanwhile, James Batchelor reckons Amazon's forthcoming foray into car sales shouldn't be dismissed
Round-ups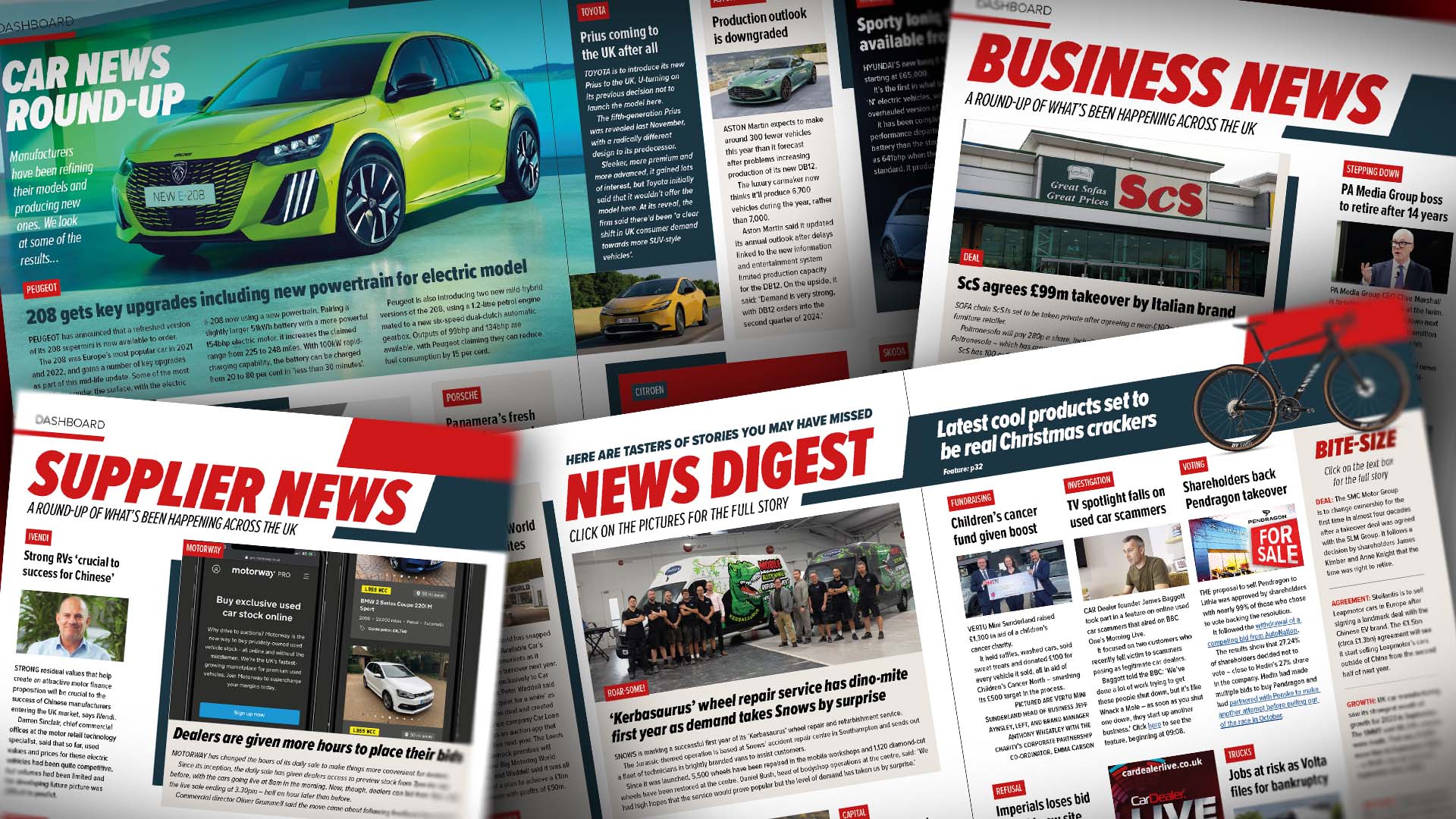 Our news digest has a crop of the biggest automotive industry stories in bite-size pieces. To read them in full, simply click on the boxes!
There are business and supplier updates as well, plus a look at what car manufacturers have been up to recently.
Also inside…
In our regular finance section, First Response digital marketer Richard Pygott sounds the alarm about a Financial Conduct Authority consultation on financial promotions via social media.
All this is just a taster of what's in issue 189 of Car Dealer – which you can read and download for free via Issuu.
How to read and download the magazine
The easiest way to access it all is by clicking on the digital magazine below.
For a quick video on how simple it is to read Car Dealer online, click below:
Want to read it on your mobile device? It's also viewable in the Issuu app, both for iOS and Android. Switch your notifications on and you'll get an alert every time a new magazine is published.
Want to make sure you're kept informed about new magazines being published? Subscribe to our email newsletter and you'll be contacted as soon as each issue is released.
And for daily breaking news updates, join our WhatsApp group to get them sent straight to your phone.
Email us via the website here to get a link to join.