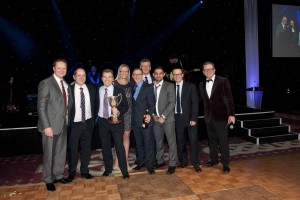 PEUGEOT Citroen Retail Group has recognised its top performing dealership teams and individuals across the country with an awards ceremony.
The annual Peugeot Citroen Retail Excellence Awards, which took place at the Celtic Manor Resort, in Newport, South Wales, celebrated the best achievers within the Robins & Day and Citroen Retail Group dealerships.
The event was hosted by the groups's chief executive David Peel and also featured an appearance from celebrity impressionist Jon Culshaw.

For the second year running, the award for Dealership of the year was presented to Robins & Day Coventry (pictured) and also to Citroen Retail Group Birmingham.
The Peugeot Citroen Retail Dealership network currently has 33 Robins & Day dealerships and 12 Citroen Retail Group dealerships.
All the dealerships in the Peugeot Citroen Retail network were assessed against each with league tables showing individual and team performances. The reviews were issued each month in 2014 against a total of 13 sales and 10 aftersales categories, with the top three achievers in each category being invited to the recent ceremony.
Commenting on the event Mr Peel said: 'Our Excellence Awards programme plays a key part of our business strategy; we believe it's important to recognise, reward and celebrate the best achievers within the group.

'Peugeot Citroen Retail is determined to continually improve the experience we offer our customers, and our Excellence Awards programme continues to contribute significantly to this objective.'
 John Brewis King 
MORE: BCA bought by Haversham Holdings for £1.2billion
MORE: New Karcher role for Jeff Hilton
MORE: Come along and join us… be part of a very special day!
On SuperUnleaded.com: Pizza delivery man invades Pope's convoy, doesn't get shot