PLAN Insurance Brokers have picked up a prestigious trophy at the 2016 Family Business of the Year Awards.
They collected the People's Choice Award for best family-run firm in the London & South East region.
Their recognition came at a prestigious gala dinner organised by Family Business United, a magazine and resource centre. The event was held to celebrate the contribution family firms make to the UK economy.

Plan, a firm independent commercial motor insurance brokers based near London, was established 25 years ago by Peter Georgiades and his eldest son, Scott. Peter's other two sons, Ryan and Grant, joined the business more than a decade ago and have helped it to grow steadily.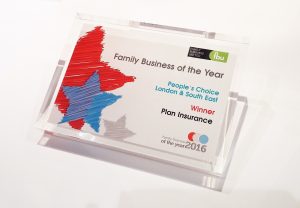 Paul Andrews, founder and managing director of Family Business United, said: 'Plan Insurance undertook a proactive campaign to get the support of the broader community to vote for them in these awards.
'The public really supported them and not only did they triumph in the London & South East Award, they finished ninth in the National People's Choice category too.
'They are a great British family firm and truly deserve all the plaudits that winning this award brings.'

Managing director Ryan Georgiades said: 'It goes to show just how much family businesses mean to the public and also demonstrates the power of social media – we had over 400 likes and retweets just as a result of mentioning we'd been shortlisted!
'I think that's fairly unheard of as people don't tend to want to engage with commercial insurance brokers in their free time. If you give a high level of service, your customers will value you and we owe a massive debt of gratitude to our customers and our hugely dedicated team and everyone else who voted for us. We are delighted to have won this award.'
To ensure their premiums are competitive, Plan source policies on behalf of their clients from an extensive panel of leading commercial insurers.
Our picture shows Ryan, Scott, Grant and Peter Georgiades flanked on either side by the FBU team
MORE: Worcester car dealership helps fundraising rally driver get on the road
MORE: Download the 100th edition of Car Dealer to your iPad for free
MORE: BCA announces full-year results, exceeding expectations
On SuperUnleaded.com: Rich Kid Pulled Over in Lambo, Abuses Police Officers