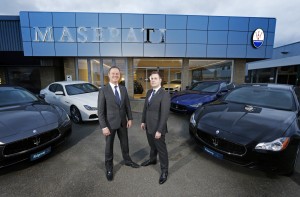 RIDGEWAY Maserati celebrated the opening of its new showroom in Oxford by holding a special launch event yesterday.
Guests were given the opportunity to view Maserati's ultra-luxurious sports cars, with the exclusive marque's entire range of models on display.
In addition to seeing the state-of-the-art dealership, guests were entertained with live music performed by a classical harpist. There was also a champagne reception.

The award-winning Ridgeway dealer group is the latest company to open a Maserati dealership in the UK. The luxury Italian marque now has an emerging network of 18 showrooms across the country.
The Ridgeway showroom will showcase the entire Maserati road car collection from the flagship top-of-the-range Quattroporte and the Ghibli executive saloon to the high-performance and luxurious GranTurismo and GranCabrio models.
Like all Maserati dealerships, as well as catering for new customers, Ridgeway Maserati Oxford also offers a full aftersales service. The celebrations will continue over the weekend, as the dealership opens its doors to the public.
Peter Denton, region manager for Maserati North Europe, commented: '2015 will be a landmark year for Maserati in the UK.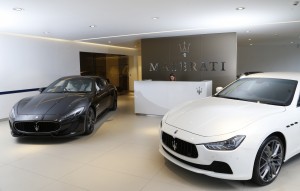 'The increasing demand for our products has resulted in the largest UK dealer network expansion in our history.
'Last year, we achieved record-breaking sales globally with an increase of 136 per cent year-on-year. Ridgeway joins our business at an exciting time.'
Martin Sewell, brand director, Ridgeway, said: 'We're delighted about our partnership with Maserati in Oxford. We look forward to welcoming our new customers.'
Ridgeway Maserati is located on Cumnor Hill, Cumnor, Oxford, OX2 9PW.
Our picture shows Martin Sewell, brand director, Ridgeway and Simon Hackett, sales executive, Ridgeway Maserati.
MORE: New head of sales appointed at GardX
MORE: Infiniti announces permanent showrooms for Westfield shopping centres