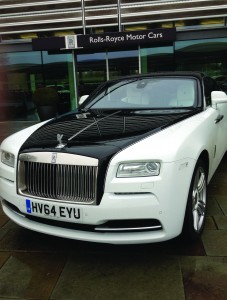 THE Rolls-Royce success story shows no sign of slowing down anytime soon.
While the big manufacturers would scoff at an annual sales figure of 4,000 units, it's got to be said, most dealerships don't sell cars with a price tag of £250,000-plus…
Car Dealer popped to the home of Rolls-Royce – Goodwood, in the heart of West Sussex – to get the low down on the company's sales figures.

Five years of successive growth, booming sales in the USA, the Middle East and China, and for the first time in the history of Rolls-Royce, more than 4,000 cars delivered in a calendar year – 4,063 to be exact.
Not a bad year, then?
'We have been in sustainable profitable growth for five years, and that is a product of a generation of planning,' says Fintan Knight, Rolls-Royce's director of sales and marketing.
It's not as if those record sales will mean there's a Rolls-Royce on every street, like Ford or a Vauxhall, is it?

'We are not volume oriented. We every much enjoy the 4,063 clients in 2014, many of whom we welcome back into the fold, and, in many cases, new clients. The very contemporary Rolls-Royce Wraith has had a big impact on brand perception. The Phantom is still our absolute pinnacle, but the Ghost and Wraith are still very important players.
'They all play a different role – the Ghost and the Wraith speak to the entrepreneurial class, the job creators and the wealth creators, while the Phantom speaks very much more to the heads of state and royalty and corporate titans.'
MORE: New-car registrations hit ten-year high
MORE: Car salesmen swap jobs for BBC programme
MORE: Perrys names new MD