DEALERSHIPS' service departments are the top determining factor of customer satisfaction and loyalty, according to J D Power's 2016 UK Customer Service Index Study released today.
Among highly satisfied customers, with overall satisfaction scores of 900 or higher on a 1,000-point scale, 92 per cent of those quizzed said they would 'definitely' return to the same service facility for future warranty work, and 83 per cent said they would 'definitely' return for future paid service.
Where satisfaction slipped just slightly (800-899), intended loyalty dropped to 74 per cent for warranty service and 58 per cent for paid service.

The study was based on 8,478 respondents who registered their new vehicle between February 2013 and April 2015. The study was fielded from February to April 2016.
Dr Axel Sprenger, senior director of European automotive operations at the global marketing information services firm, said: 'When auto dealerships manage to get the service department's customer service equation right, they earn incredibly loyal customers.
'The service event is also instrumental in driving sales, as it is likely the most recent experience the customer has had at the dealer prior to shopping for a new vehicle.'
Mercedes-Benz ranked highest among premium brands, with a score of 774 – an 18-point improvement from 2015 when it ranked fourth. It was followed by Land Rover (773) and Audi (761).

Toyota ranked highest among volume brands, with a score of 776 – a 17-point improvement from 2015. Honda ranked second (775), followed by Kia (765), Mini (757) and Suzuki (753).
The study, now in its second year, measures UK customer satisfaction with their service experience at a franchised dealer facility for maintenance and repair work. It explores customer satisfaction with their service dealer by examining five measures, listed in descending order of importance: service quality; service initiation; service adviser; vehicle pick-up, and service facility.
The charts for premium and volume brands are below. Click on the images to enlarge them.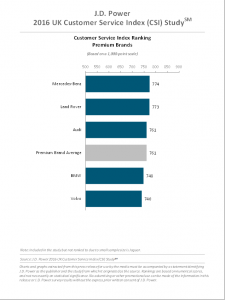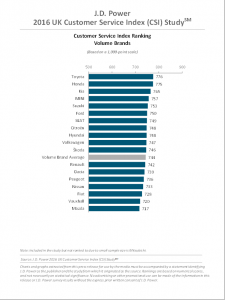 MORE: Vertu adds Mercedes-Benz to portfolio with £21.9m purchase of Sigma and Greenoaks
MORE: Toyota rewards its best-performing retailers
MORE: Trade Plates TV speaks to Daksh Gupta and Robert Forrester in this week's news show
On SuperUnleaded.com: This Close Encounter Of The Furred Kind Is A Real Scream