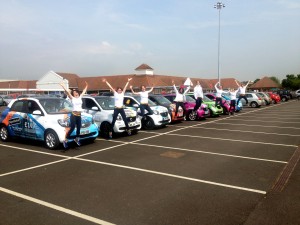 MERCEDES-BENZ Retail Group, the UK's largest official smart retailer, unleashed a convoy of specially-designed smart cars this morning – and the vehicles are making their way round a number of towns in the south-east of England.
Manoeuvring their way around the busy streets of Brentford, Woking, Colindale, Croydon, Dartford, Epsom, Loughton and Watford today and tomorrow, the convoy of eight new smart forfour four-seaters are sporting unique liveries, each dedicated to London.
While the road widths and competitive car parking can prove too much of a tight squeeze for some vehicles, the smart convoy is demonstrating to passers-by that the forfour has ample space within a compact package to make driving in the city both fun and affordable.

As part of a new initiative, Mercedes-Benz Retail Group will be taking the product to the people, supported by a host of give-away goodies. The public are invited to tweet @smartRetailG with their images and experiences of the smart convoy using the hashtag #spotthefour.
Matthew Wrigley, marketing and CRM director of Mercedes-Benz Retail Group, commented: 'We are proud to be a part of the community and thought our smart convoy would add a bit of fun, while highlighting just how affordable and great the smart forfour is in the city.'
Mercedes-Benz Retail Group UK Ltd is a wholly owned retail subsidiary of Mercedes-Benz UK Ltd. It's made up of 22 sales and aftersales sites, eight used car sites and 14 smart centres across Birmingham, London and Manchester.
MORE: Our Andy's a judge at the annual CitNOW video awards

MORE: Heavy fines for car dealers who sold a dangerous vehicle
MORE: CAP Gold Book IQ is an award winner
On SuperUnleaded.com: So You Think You're Ready For 24 Hours of Le Mans?