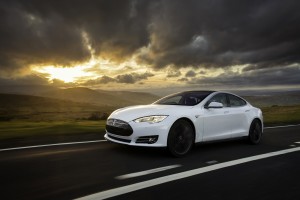 ELECTRIC vehicle manufacturer Tesla has opened a new pop-up store and supercharger in Bristol – both of which are at The Mall, Cribbs Causeway, just off the M5.
The pop-up store joins Tesla's four permanent locations in the South East and Midlands. Test drives are available and it will be open until mid-January.
Tesla has also announced plans for a permanent store and service centre in the Bristol area and is recruiting for this location.

The supercharger is permanent and is part of a network in the UK that so far comprises 10 locations, with more under construction, stretching as far north as Edinburgh.
Tesla plans full UK and Irish coverage by the end of next year to enable long-distance travel that links to the European Supercharger network.
The company's Model S is the world's first premium saloon built from the ground up as an electric vehicle.
At the heart of the car is the Tesla powertrain. With a rigid body structure, nearly 50/50 weight distribution and a low centre of gravity, Tesla says Model S offers the responsiveness and agility expected from the world's best sports cars while providing the ride quality of a luxury performance saloon.

Model S has a five-star NCAP safety rating and a range of 285 miles – the longest range of any production electric vehicle in the world. It can do the 0 to 60mph sprint in as little as 3.2 seconds.
MORE: New finance form is bang up-to-date, says iVendi
MORE: Next year will be busy for Hyundai dealers
MORE: It's vital to make sure you're memorable, not mediocre