A commanding driving position allows me to pretend I'm Hannibal from The A-Team
THE more I drive the Transporter the more I love it. Not only because it makes me feel like Face from The
A-Team, or Hannibal (let's go with Hannibal, as I was never cool enough to be Face), but also because of its ability to be a van.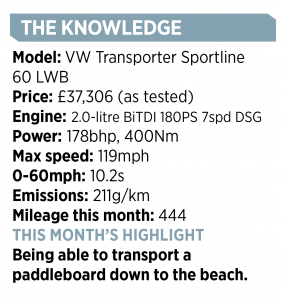 I know most of the above paragraph makes absolutely no sense whatsoever, so hear me out for a minute.

Firstly, I could definitely pull off Hannibal because I've got grey hair and occasionally have a penchant for cigars, but secondly I often forget the Transporter has that massive load space behind me, hence the van surprise.
You see, the more I drive it the more that size disappears and the more I love the commanding seating position the cabin offers.
This month it has totally come into its own too and impressed me with its ability to swallow equipment that would normally require a roof rack, a step ladder and an appointment with the chiropractor.
I'm training for a triathlon with a difference at the moment – it's called a SUPBikeRun, and will see me complete (fall off) a paddleboard course of 3km, take on a 30km mountain bike trail ride and then a 5km trail run.

It's the former I've needed the training for so, paddle board purchased, I've mostly been transporting it down to the sea in the Transporter this month.
But not only does it cart that with ease – albeit after removing one of the seats from the second row so it slots all the way down the side of the van – but it also has room for two kayaks so my wife and friends can come along too.
Now these sea kayaks aren't particularly small, but with some fine tweaking, much shoving and careful arrangement they all fit, while still giving me room to take three passengers to the water.
That alone makes the Transporter my current favourite on our fleet – there's a lot to be said for fast and fun, but practicality like this really floats my boat (so to speak). I must be getting old…