CAR manufacturing in the UK was down 13.3 per cent last month, according to figures from the Society of Motor Manufacturers and Traders.
The industry body's data shows that 147,471 cars rolled off UK production lines in March, compared with 170,056 in the same month last year.
The biggest hit was to the home market, which fell 17.7 per cent from 39,852 in March 2017 to 32,796 last month.

That said, exports, which made up 77.8 per cent of the total market, also decreased from 130,204 to 114,675 – a year-on-year decrease of 11.9 per cent.
This means that total Q1 manufacturing was down 6.3 per cent year-on-year, from 469,841 to 440,426, with eight in 10 cars built being shipped overseas.
The news has prompted the SMMT to call for the UK to remain in the customs union, arguing that for every one pound generated by the industry, three pounds are delivered to the economy via adjacent sectors such as logistics, retail and finance, with the industry body estimating the economic impact at £219bn, which equates to 10 per cent of UK GDP.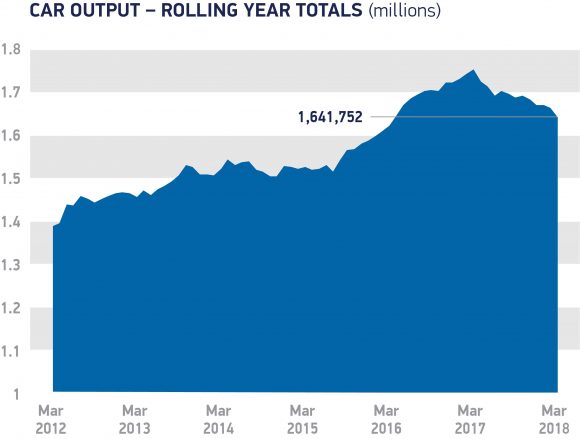 Mike Hawes, chief executive of the SMMT, said: 'A double-digit decline in car manufacturing for both home and overseas markets is of considerable concern.

'Following recent announcements on job cutbacks in the sector, it's vitally important that the industry and consumers receive greater certainty, both about future policies towards diesel and other low emission technologies, and our post-Brexit trading relationships and customs arrangements.
'Maintaining free and frictionless trade is an absolute priority – it has been fundamental to our past success and is key to our future growth.'

Alex Buttle, director of Motorway.co.uk, commented: 'March saw production for the UK market fall 17 per cent – the fourth double-digit decline in the past five months.
'In anyone's books, that's a worrying trend, even when you take into account that domestic demand was particularly strong in the first quarter of 2017.
'The industry's facing a crisis. It has been hit with several knockout blows and is struggling to climb off the canvas, with Brexit only likely to worsen the situation.
'Consumer confidence needs a boost to get domestic demand back on track, or we're at the mercy of the EU and unknown trade deals. This is not the best time to be relying on exports to prop up flagging UK demand.
'Hoping for increased support from our European neighbours is not a strong negotiating position to be in when we are trying to gain favourable EU trading conditions.
'A clear roadmap for Brexit is a priority to restore consumer confidence in the short terms, alongside more clarity around air quality plans and the switch to electric motoring.
'If diesel really is dead, then electric could be the saviour of the UK car industry, but the government has to act now, offering much more attractive incentives to car users to switch.'
A spokesperson for the Department for Business, Energy and Industrial Strategy added: 'The British automotive industry is a great success story that attracts inward investment from major companies in the sector.
'The UK is one of the largest European car producers and has some of the highest levels of productivity amongst major automotive producers in Europe.
'Through our modern industrial strategy and automotive sector deal, we are determined to continue to grow this vital industry. As we leave the European Union, we will seek the broadest agreement that delivers the maximum benefits for both the UK and EU economies, and maintains the strength of our world-leading automotive sector.'
MORE: New car sales dipped by 2.8 per cent in February, says SMMT
MORE: Black was the UK's favourite car colour in 2017, according to the SMMT
MORE: Automotive experts and industry leaders to headline CDX 2018 Live Stage
On WorkshopMagazine.co.uk: Trico gives wiper blade business a boost at A1 Trade Show