Here's your news, business and motoring round-up for Tuesday, August 4
Fuel prices up for second month in a row
Average petrol and diesel prices both rose by 3p per litre in July, RAC Fuel Watch data shows.
The average cost of a litre of petrol increased from £1.11 to £1.14 while diesel was hiked from £1.15 to £1.18. That added nearly £2 to the cost of filling up a typical 55-litre family car and was the second consecutive monthly fuel price rise. Petrol is now 7p per litre more expensive than it was at the end of May.

The RAC believes retailers should be cutting forecourt prices by a few pence per litre within the next fortnight as the wholesale cost of fuel fell by 2p per litre for petrol and a fraction of a penny per litre for diesel last month.
Motorist in drive-through Covid test centre given parking fine
A motorist who visited a drive-through Covid-19 test site was amazed when he received a £90 parking fine.
Geoff Pugh, 52, was given the penalty after taking his family for coronavirus tests at Edmonton Green Shopping Centre in north London, according to BBC News.

The family were at the site for less than 25 minutes and didn't leave the car and yet were sent a penalty notice. The company which sent the fine said it was issued incorrectly.
Hays Travel to cut up to 878 jobs
Hays Travel is to cut up to 878 jobs out of a total workforce of 4,500 people, the firm announced.
The travel company said it has 'made every possible effort' to avoid job losses 'during these extraordinary and distressing times'.
It was 'on track for recovery' when the Foreign and Commonwealth Office stopped advising against all non-essential travel in early July, but the recent decision to reintroduce restrictions for people going to Spain 'triggered the cancellation of hundreds of thousands of holidays'.
Galactic aircraft to get Rolls engines
Virgin Galactic has announced it is working with aircraft engine maker Rolls-Royce to develop an aircraft that can travel three times the speed of sound.
The partnership with Rolls-Royce, which built engines for Concorde, the only civil-certified supersonic aircraft, comes after the Virgin Galactic programme cleared a mission concept review that included representatives from Nasa.
The initial aircraft design (pictured above) includes a delta-wing plane that can carry between nine and 19 passengers at an altitude above 60,000 ft and reach Mach 3, or three times the speed of sound. It's expected to take off and land like any other passenger plane at existing airports.
£900m to be invested in building projects
The government has announced more than 300 projects which will share a £900m investment to build homes, infrastructure and create jobs.
The successful projects in England will receive a portion of the £900m Getting Building Fund, announced by the Prime Minister in June, with the investment expected to deliver up to 45,000 homes, create up to 85,000 jobs and reduce around 65 million kgs of CO2 emissions across the country.
Housing secretary Robert Jenrick said the funding will not only 'give a much needed boost' to the country's economic recovery after the pandemic, but will also 'help build the good quality, affordable homes the country needs'.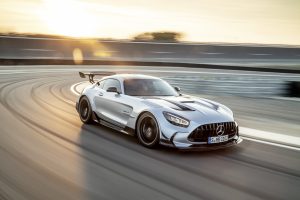 AMG Black Series priced up
Mercedes-AMG has revealed the price tag for its mad 201mph GT Black Series – £335,000.
The regular GT's 4.0-litre twin-turbo V8 has been boosted to 720bhp and 800Nm of torque allowing the GT3-racing-inspired road car to get from 0-60mph in three seconds and on to a top speed of 201mph.
Production numbers are not limited by number but by the length of time AMG intends to build them, and it'll be arriving in the UK in the autumn.
Government tells firms to stockpile medicines for end of Brexit transition
Pharmaceutical companies should stockpile six weeks' worth of drugs to guard against disruption at the end of the Brexit transition period.
The Department of Health and Social Care (DHSC) has written to medicine suppliers advising them to make boosting their reserves a priority, and reiterates the UK won't be asking for an extension to the transition period past December 31.
There are concerns that the Covid-19 crisis has led to a dwindling of some medical stocks and that a disorderly exit without a trade deal could cause significant disruption.
Purplebricks breaks own record as 7,000 homes listed in July
Online real estate agent Purplebricks had its best month ever in July as the UK's property market started to rebound after lockdown restrictions were lifted.
More than 7,000 homes were listed on the company's website during the month, bosses said on Monday.
It comes as the business reported an 11 per cent drop in revenue for the year to April 30.
And looking at the weather…
Today
A dry and sunny day with a moderate breeze for most parts of England, reports BBC Weather. Rain and brisk winds for Northern Ireland, Scotland northern England and parts of Wales.
Tonight
Rain will continue into tonight turning heavy in northern areas. A drier night for elsewhere but with brisk winds.
Wednesday
A similar picture to today which a divide between rain in the north, Northern Ireland, Wales and Scotland, and drier weather in the south of England. Gusty winds for many.
Yesterday on Car Dealer Live – Fix Auto UK MD Ian Pugh