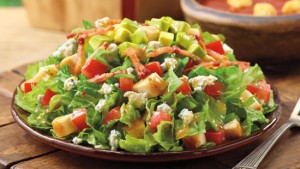 NEARLY two-thirds of the UK adult population is now considered to be overweight.
A recent study, which looked at data from 1980 to 2013, found that more people in the UK are either obese or overweight than at any time in the past three decades. Yes, decades…
Now I love a Big Mac as much as the next man, but sometimes, you've just got to take a look at yourself and realise it's time to make some serious lifestyle changes. Like stopping eating Crunchies for breakfast. But there's no helping some people. I mean, Car Dealer is based in Gosport, named as one of the fattest towns in the UK, and I sometimes wonder if the (many) potholes are caused by pedestrians crossing the road.

Anyway, I think it's about time the car industry stepped up to the (empty) plate and did something about it. Let's face it, we're part of the reason the population is getting tubby for a start, aren't we?
Okay, so we're not exactly American in waist sizes yet, but we're getting precariously close.
So, inspired by Nissan's April Fool, I've come up with some, quite frankly, brilliant ideas to make car driving a little more like exercise. Hear me out…
Nissan stated it was going to switch off all driver aids with a 'GYM' button in future models in a 'bold development to attempt to help drivers improve their fitness levels'. By turning off the car's power steering and electric windows, the button would 'allow commuters to get their very own workout at the wheel'.

Okay, so it might have been an elaborate April Fool, but it did make me think. Remember when you had wind-up windows? They were guaranteed to make you sweat in the height of summer.
And no power steering would certainly improve upper body strength, too – especially in executive cars, which would take considerable bicep power to turn a corner.
Car designers should be forced to make it harder to get into cars. Let's make doors heavier so it takes a bit more effort to heave them open. And while they're at it, remove all electrically-operated tailgates and those struts that hold them up so drivers are forced to do that too. And make them heavier.
All multi-storey car parks should have lifts removed so drivers are forced to take the stairs, and fines should be issued to any driver who travels less than a mile in their car at any one time.
'What about a tiered motorway speed limit?'
I have no idea how that would be enforced, but I'm the ideas man. We'll let someone else sort out the details. If I was given carte blanche by the Tory boys to really sort things out – and if our waistlines carry on the way they're going, they're going to be calling me, not the other way around – I'd get more extreme.
All city centres would have a car ban. And buses too, but only because everyone hates buses. A one-mile exclusion zone would be thrown around the city centre with ample parking on the outskirts. Boris-style bikes would be on offer for free to drivers, or they could walk the final mile to their destination.
Petrol stations would offer pedometers to customers and fuel duty would be excluded if they could prove they walked a minimum of 7,000 steps a day. The government wins with fitter people using the NHS less, hence being able to offer the cut in fuel prices. Now, come on, that one is good…
And what about introducing a tiered motorway speed limit? An annual Driver Bleep Running Test – similar to that the forces use – would be set up by the DVLA. The better a driver performed, the faster they'd be allowed to drive on the motorway. The fittest would be given a pass for 85mph – and there's not many better reasons to ditch the kebabs than that, is there?
Those classed as clinically obese would be given a limit of 60mph on motorways. This would rise the fitter they got – to the point they'd be allowed a 90mph pass if they ever ran a marathon. Other incentives to get fitter would include a discount on fuel, free healthy foods in service stations and free parking everywhere. Including airports.
And in Baggott's Britain, fast-food outlets would be banned from motorway service stations while Costa and Starbucks would be forced to swap sugar for sweeteners, and  offer only skimmed milk-based drinks rather than full fat (no one would spot the difference anyway).
Oh, and chocolate and crisps would be priced the same as cigarettes in petrol stations and hidden from view behind screens.
All sounds a bit extreme, doesn't it? Well, that it is, but it's about time someone took action. And let's face it, Cameron is going to be more focused on keeping Boris at bay over the next few years than he is with battling Britain's bulge…
Who is James Baggott? He's the founder of Car Dealer Magazine and managing director of parent company Blackball Media, an automotive services provider. He now spends most of his time on Twitter @CarDealerEd and annoying the rest of us.
MORE: Kia and Hyundai watching Fifa developments
MORE: Salesman escapes jail after faking service histories
MORE: Swansway Group invests £12m as its operations expand
On SuperUnleaded.com: That awkward moment Porsche forgets how to spell Porsche