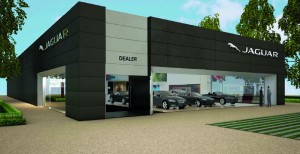 CREWE-based Swansway Group is investing £12 million in new-build centres across the North West.
The Group's Honda site on Queensway in Rochdale is to be demolished and totally re-developed giving the town not only a brand new state-of-the-art Honda centre, but also an all-new Volkswagen Van Centre serving north Manchester.
Swansway, winners of the Volkswagen Commercial Vehicles Retail Group of the Year Award 2014, will also develop a new-build Van Centre on the site. This twin development will involve a £3.5 million investment.

Around the corner from the group's head office, and its Audi, Volkswagen and Seat centres in Crewe, another new-build centre will take shape; this time Swansway's first Jaguar Centre. This iconic brand will be housed in a state-of-the-art building involving a further investment of £4.5 million.
In Chester, family owned and run Swansway are about to break ground on another twin site; their first Fiat brand centre, twinned with a Citroen centre, including the new DS lounge concept. The Fiat centre will retail Fiat, Abarth, Jeep and Alfa Romeo brands, with the Citroen and DS brands in a separate centre. At a cost of £4 million, this brings Swansway's total investment to £12 million.
Peter Smyth, group director of the family-owned and run Swansway Group, added: 'We're looking forward to expanding our operations across the north-west. This is merely a continuation of our on-going investment, and it's interesting to see that recent talk about the ''Northern Powerhouse'' has brought more focus on our area. Long may it continue.
'As a group, we've always strived to provide our customers with a level of service which keeps them coming back for more; these new centres will definitely help us deliver the very highest standards of customer service.'

All the new sites are due to open in the first half of 2016.
MORE: Winners are crowned at CCR Mitsubishi's annual awards
MORE: Special guest arrives to mark opening of new Ford store
MORE: Car Loan 4U hits the fast lane with Zuto rebrand
On SuperUnleaded.com: European Road Trip So Good It Was Created By A Scientist